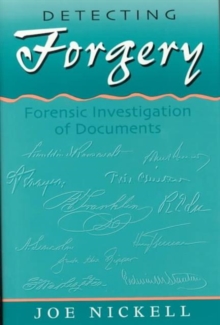 Detecting Forgery : Forensic Investigation of Documents
Hardback
Description
Clifford Irving's autobiography of Howard Hughes. Han Van Meegeren's brilliant reproductions of Jan Vermeer's seventeenth-century paintings.
The sensational Mormon papers of document dealer Mark Hoffman.
All were important discoveries - until, that is, the tools of forensic investigation revealed each to be a remarkable work of forgery that would send the worlds of literature, art, and history reeling.
In a book that's as difficult to put down as a good mystery, Joe Nickell explores the world of questioned documents.
He reveals the mission of forensic sleuths and their often nearly impossible tasks: to detect forged handwritings, uncover alterations in documents, and identify the authorship of disputed or anonymous writings - to use the eye and the tools of science to make evident the often imperceptible and to expose the cunning art of the forger.
Detecting Forgery covers the essential aspects of forensic document examination and illuminates the scientific with historical information on famous forgers, as well as captivating case studies and numerous illustrations from the author's own files, explaining how forgers ply their nefarious trade and how document examiners uncover the subtly clever deceptions.
This enlightening book focuses primarily on documents yet provides considerable information on uncovering forged prints, paintings, and other works of art.
Nickell reveals the complete arsenal of forensic techniques used in uncovering forgeries of modern as well as historical documents and provides an invaluable source for collectors and dealers, professional document examiners, archivists, and historians.
Information
Format:Hardback
Pages:228 pages
Publisher:The University Press of Kentucky
Publication Date:01/03/1996
Category:
ISBN:9780813119533
Other Formats
Paperback / softback from £22.50