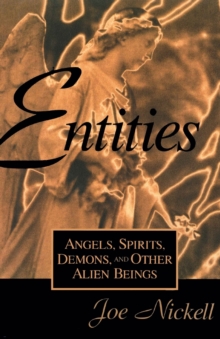 Description
Guardian angels, demonic spirits, extraterrestrial visitors--are these entities figments of the imagination, or is there evidence for their existence?
Famed psychic detective Joe Nickell answers these questions in his lively book. From the "Newberry Demon" of 1679 and the strange phenomena produced by 19th-century spiritualist mediums to such modern enigmas as alien abductions, bigfoot sightings, and the bizarre mystery of Atlanta's "House of Blood," Entities examines eyewitness accounts and other evidence for strange beings worldwide. Without dismissing or advocating any particular view, Nickell takes a detective's approach to controversial claims, shedding light on dozens of otherwise perplexing mysteries.
This bookwill challenge, anger, amuse, and fascinate but, most importantly, it will enlighten.
Believers and skeptics alike will benefit from the careful analysis that appears on every page.
Information
Format:Hardback
Pages:297 pages
Publisher:Prometheus Books
Publication Date:01/03/1995
Category:
ISBN:9780879759612