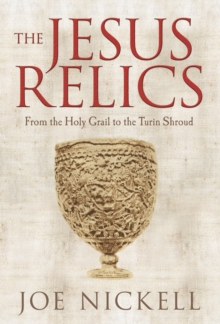 The Jesus Relics : From the Holy Grail to the Turin Shroud
Hardback
Description
In The Jesus Relics Joe Nickell examines the authenticity of numerous Christian relics, investigating not only the objects themselves, but also the methods that were used to substantiate these proposed treasures.
The perennial debate over the authenticity of such relics as the Shroud of Turin, the cross on which Christ was crucified, and the head of John the Baptist leads Nickell to study the available evidence.
He uses all the tools available to him, from science to historical investigation.
For example, radiocarbon dating places the cloth from the Shroud of Turin in the Middle Ages, not the first century.
Similarly, radiocarbon dating of purported wood from Christ's cross shows it to be from 980-1146 AD.
Nickell also explains that pieces of John the Baptist's head were so abundant in the 13th century that jokes were made about them.
Information
Format:Hardback
Pages:256 pages
Publisher:The History Press Ltd
Publication Date:01/05/2008
Category:
ISBN:9780752445984