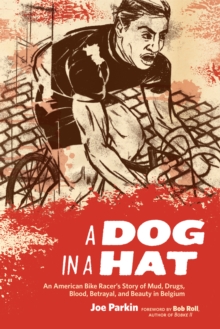 A Dog in a Hat : An American Bike Racer's Story of Mud, Drugs, Blood, Betrayal, and Beauty in Belgium
Paperback
Description
When a normal situation suddenly changes, Belgians call it 'een hond met een hoed op,' a dog with a hat on.
Joe Parkin, an American bike racer who left the familiar comforts of home to compete at the highest professional level in Belgium, was that dog in a hat - something familiar, yet decidedly out of place.In his searing, no-holds-barred memoir, Parkin describes the true life of the professional bike racer.
His plainspoken prose puts us in the whirlwind of this hardest of athletic educations, starting with the first visit to his team doctor, where, strapped to a metal table and monitored by humming electrodes, men in white lab coats coldly divine his future as a pro.Parkin pulls no punches. "A Dog in a Hat" celebrates the glory of bike racing, but Parkin tells the hard reality of the life thrillingly - the drugs, the payoffs, the betrayals by team-mates, the battles with team owners for contracts and money, the endless promises that keep you going, and the sheer physical agony of racing day after day.Despite the pain, despite the suffering, "A Dog in a Hat" is a beautiful book.It is one racer's story of his love affair with professional cycling, set in the hardest place in the world to be a bike racer. It is a story untold until now, and one that Parkin's readers will never forget.
Information
Format: Paperback
Pages: 205 pages, colour photo-sections
Publisher: VeloPress
Publication Date: 15/08/2008
Category: Autobiography: sport
ISBN: 9781934030264
Free Home Delivery
on all orders
Pick up orders
from local bookshops
Reviews
Showing 1 - 2 of 2 reviews.
Review by reverends
16/06/2015
More often than not, sports memoirs usually fall into two major categories; tell-all scandal sheets designed to sell copies through controversy, and lengthy life stories heavily padded with dull and unneeded information.Joe Parkin's biking memoir does not fall into either of these camps. In A Dog in a Hat, Parkin chronicles the years he spent training and racing in Belgium during the late eighties with brevity and candor, giving the reader plenty of breathing room to enjoy the behind the scenes look at professional bike racing.Perkin's memoir is about more than just racing. It is a look at the adventures and journeys of an ambitious young man immersing himself in unfamiliar cultures and customs, not only in the intense world of professional team bike racing, but also the foreign land and people that for a short while became his adopted home and family.Never bitter or overly dramatic, A Dog in a Hat is a professional athlete's fond recollection of a period in his life filled with the experiences and decisions – both good and bad – that not only define the development of an athletic career, but of one man's life journey. Even if you are not into professional bike racing, A Dog in a Hat is a sports memoir that will amuse, inspire, and entertain.
Review by InDreamsAwake
16/06/2015
A rare glimpse into the world of professional cycling in Belgium, this is a story that could only have been told by Joe Parkin, an American cycling in Europe not for the glory but for the love of it. If you're interested at all in cycling beyond what is seen in the Tour de France then I would recommend this book. It definitely garnered a new found respect for these athletes, who in my opinion, push themselves beyond what any other sport requires. <br/><br/>However, it's a shame that this book wasn't better edited, because then it might reach a wider audience. Of course Joe Parkin is a cyclist, not a writer, but this is where a good editor steps in. The book lacked cohesiveness and at times seemed very random- anecdotes thrown in that didn't really have anything to do with anything, while some other things were glossed over. I wish there had been more emphasis placed on the cultural difference between the way Belgians regard cycling and Americans disregard it. It really won't appeal to anyone other than cyclists.