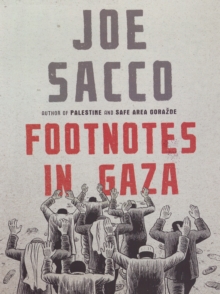 Footnotes in Gaza
Hardback
Description
Rafah, a town at the southernmost tip of the Gaza Strip, is a squalid place.
Raw concrete buildings front rubbish-strewn alleys. The narrow streets are crowded with young children and unemployed men.
Situated on the border with Egypt, swaths of Rafah have been reduced to rubble.
Rafah is today and has always been a notorious flashpoint in this most bitter of conflicts. Buried deep in the archives is one bloody incident, in 1956, that left 111 Palestinian refugees dead, shot by Israeli soldiers.
Seemingly a footnote to a long history of killing, that day in Rafah - coldblooded massacre or dreadful mistake - reveals the competing truths that have come to define an intractable war.
In a quest to get to the heart of what happened, Joe Sacco arrives in Gaza and, immersing himself in daily life, uncovers Rafah, past and present.
Spanning fifty years, moving fluidly between one war and the next, alive with the voices of fugitives and schoolchildren, widows and sheikhs, Footnotes in Gaza captures the essence of a tragedy. As in Palestine and Safe Area Gorazde, Joe Sacco's unique visual journalism has rendered a contested landscape in brilliant, meticulous detail.
Footnotes in Gaza, his most ambitious work to date, transforms a critical conflict of our age into intimate and immediate experience.
Information
Format: Hardback
Pages: 432 pages
Publisher: Random House Children's Publishers UK
Publication Date: 03/12/2009
Category: Reportage & collected journalism
ISBN: 9780224071093
Free Home Delivery
on all orders
Pick up orders
from local bookshops
Reviews
Showing 1 - 2 of 2 reviews.
Review by blackhornet
16/06/2015
Brilliant. At first I thought that Sacco's own presence in the narrative might be distracting. But as the book goes on, it becomes clear that his inclusion is crucial to an understanding of the complexities of Palestine and of this graphic 'novel'. What right does Sacco have to interfere in this conflict? Why should he investigate the past when the future is so troubled? Why should the conflict be turned into art?Even for readers aware of what is happening in Palestine, it is hard to believe some of the injustices recorded. And they are all the more powerful, given the care Sacco takes to demonstrate the unreliablity of memory: while individual memories cannot be trusted, the documenting of multiple memories provides damning proof of atrocities past and present.
Review by VisibleGhost
16/06/2015
Some words roiling around in my head while reading FIG.Intractable, Impossible, Hopeless, Unsolvable, Non-Communication, Misunderstanding, Unchangeable, Impasse, Endless, Never-Ending, Perpetual, Clusterfuck, Monotheism, Memes, Depressing.