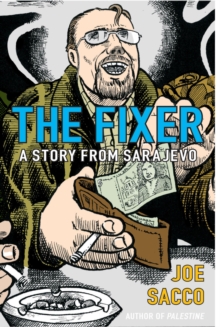 Description
In The Fixer Joe Sacco returns to Bosnia, the setting for his first masterpiece, Safe Area Gorazde.
In 2001 he went back to Sarajevo to meet up with his old 'fixer', an army veteran called Neven who, for the right price, could arrange anything for the visiting journalist.
Sacco gradually realized that Neven's own story - a microcosm of the Balkan conflict itself - might be the most compelling of all.
Through Neven, Sacco tells the story of the warlords and gangsters who ran the country during the war, but all the time he - and the reader - never know whether Neven is telling the truth.
Information
Format: Paperback
Pages: 112 pages
Publisher: Vintage Publishing
Publication Date: 29/05/2004
Category: Comic book & cartoon art
ISBN: 9780224073820
Free Home Delivery
on all orders
Pick up orders
from local bookshops
Reviews
Showing 1 - 2 of 2 reviews.
Review by scroeser
16/06/2015
I wrote my honours thesis on Women in Black, which included a heap of research on the awful things that happened to women during the Yugoslavion conflict, as well as lots on women's activism. It was odd reading this, then, where women are always in the background.Good art, a sad story, personal touches. Hopefully I'll get around to checking out more of Sacco's work.
Review by jasonli
16/06/2015
"The Fixer" is a graphic novella by Joe Sacco centered around one of his local informants in Bosnia, whom he relied on during his time there in the 90s. Sacco weaves in and out of the life story of his "fixer" and of the war that occurred in Bosnia in the early 90s; everything is told from his point of view and he humorously caricatures himself as a timid journalist on the sidelines.The plot structure is deftly handled by Sacco; he manages to skip backwards and forwards in time with ease, and zooms in and out of his subjects gracefully. While I do think he does a great job of paying a tribute to his friend, the fixer, the homage was a bit overwrought for me and my interest waned towards the end of the book.