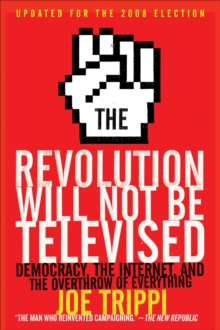 The Revolution Will Not Be Televised Revised Ed : Democracy, the Internet, and the Overthrow of Everything
EPUB
Please note: eBooks can only be purchased with a UK issued credit card and all our eBooks (ePub and PDF) are DRM protected.
Description
In a blend ofWiredmagazine andThe Boys on the Bus,the man who invented Internet politics tells the story of how it was done and reveals how every sector can benefit from tech revolution.
Campaign manager Joe Trippi, who signed on to run Howard Deans campaign when there was less than $100,000 in the till and fewer than 500 people involved, transformed the most obsure candidate in the field into the Democratic frontrunner and all-but-coronated party nominee in less than a year. The secret of Trippis off-the-charts success: a revolutionary use of the Internet, and an impassioned, contagious desire to overthrow politics-as-usual. Before Dean knew it, he had a groundswell of 600,000 Americans behind him, was leading in every poll, and had raised $45 millionmore money than any Democrat in history.
We now know that unprecedented fundraising, unheard-of numbers of people checking in on the Internet, chatting on blogs, reaching out to their fellow voters and showing up at house parties really can compete withand in so many ways exceed the more traditional approaches to winning in politics. But the whys and hows leave much fertile ground to plow, and for the first time, Trippi, an icon to all the Dean supporters he energized, is sharing his lessons learned, along with colorful behind-the-scenes stories from the campaign trail.
Perhaps lulled by the bust of the dot.com boom, many have dismissed the Internet as old news. But if Deans campaign wasnt enough of a wake-up call, this book is: Trippi reveals just how the sleeping power of technology can be harnessed, and illuminates how every organization and individual in America can benefit from the tidal wave of change on the horizon.
Information
Format:EPUB
Pages:336 pages
Publisher:HarperCollins
Publication Date:21/07/2009
Category:
ISBN:9780061956911