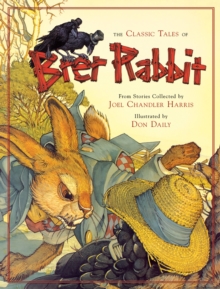 The Classic Tales of Brer Rabbit
Hardback
Description
This Courage Classic is reformatted into a smaller trim size and a lower price sure to make them necessities in any library.
Beautiful, rich, and vibrant illustrations accompany these classic tales and make them treasures for all to read.
Don Daily's exquisitely detailed illustrations make this hardcover series a great value.
Retold from Joel Chandler Harris's Uncle Remus: His Songs and Sayings , children of all ages will laugh at the adventures of Brer Rabbit, Brer Fox, and Brer Bear.
Information
Format: Hardback
Pages: 56 pages
Publisher: Running Press,U.S.
Publication Date: 29/01/2008
Category: Classic
ISBN: 9780762432196
Free Home Delivery
on all orders
Pick up orders
from local bookshops
Reviews
Showing 1 - 3 of 3 reviews.
Review by dknapp
16/06/2015
This book is a collection of stories about Brer Rabbit. In one such story Brer Rabbit is caught in a trap trying to steal Brer Fox's peanuts. Brer Rabbit tricks Brer Bear into thinking that he is actually guarding the hole in the fence into Brer Fox's peanut patch. Sure enough, Brear Rabbit soon has Brer Bear willingly taking his place in the snare and runs off to tell Brer Fox. Brer Bear is not happy and proceeds to hit Brer Rabbit. I found this book rather hard to read with all the "Brer" titles for all the animals. It was rather a tongue twister trying to read this aloud to my 5 month old. The pictures are very good and the stories are familiar but overall I didn't really enjoy the book.This book could be used in the classroom in a unit over classic tales or possibly over trickster tales. Also, having the children act out one of the stories might be fun and also teach them a moral such as in the story of The Great Race.
Review by MeghanOsborne
16/06/2015
Summary:This book is a compiling of stories about the life and adventures of Brer Rabbit. Brer Rabbit is a sneaky rabbit whose main concern is bothering Brer Fox and making sure that everyone in town knows he is the smartest, the fastest, and the best at just about everything. Even when the other animals attempt to outsmart him, they cannot.My Personal Reaction:I thought the stories were very fun and the pictures were very captivating and colorful. The book was also very interesting,a nd had no issue with keeping even my attention. However, I felt that the story centered around a character who is not an individual of good character, and certain parts of the book were actually somewhat violent (i.e. Brer Wolf and Brer Fox making a plan to lure rabbit in and club him).Classroom Extension Ideas:1. The teacher could have students compare and contrast how Brer Rabbit treated his neighbors, and how we should treat our neighbors.2. This book could accompany a discussion on bullying and how to handle friends who may act like Brer Rabbit sometimes.
Review by Mihalevich
16/06/2015
Author Joel Chandler HarrisTitle Brer RabbitIllustrator Don DailyPublisher Running press kidsPages 56Date 2008Summary of main plot: This book is about the tar baby and the fox. This fox makes a tar baby which it is made out of tar and this rabbit try's to talk to this tar baby thinking it is a real thing. He is wondering why the stupid thing wont say hi to him. The rabbit try's to kick the tar baby and gets stuck to it and ends up in the bushes back where he came from.Tags and subject headings would be learn a lesson teaching a lesson.My response: At first I didn't like this story because of how it was written but once I learned how to talk like the story wanted me to I enjoyed it more. I think it was clever to make the tar baby also.