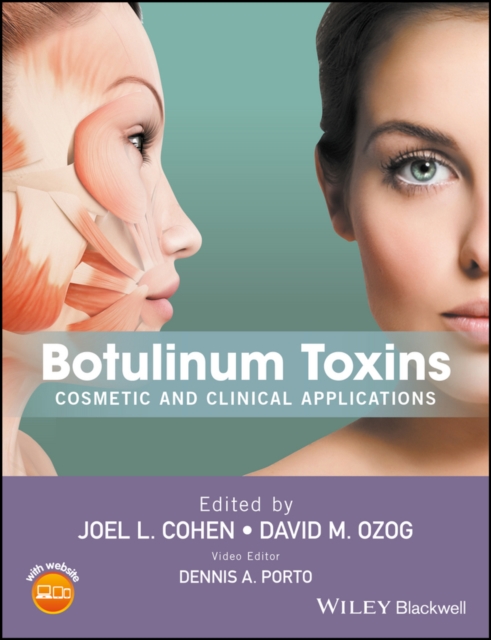 Botulinum Toxins : Cosmetic and Clinical Applications
Hardback
Description
Botulinum Toxins: Cosmetic and Clinical Applications provides a comprehensive and in-depth review of the use of botulinum toxin for aesthetic procedures and medical applications as a stand-alone treatment and as part of combination therapy. Now a mainstay of cosmetic dermatologic practice, the range of available toxins and their varied applications has grown considerably in recent years requiring the practitioner to carefully consider what approach best suits the needs of their patient.
This new book, written by international expert authors, provides guidance to help you refine your technique, add new procedures to your practice, and provide optimal results. This book: Offers guidance on best-practice approaches with botulinum toxin, helping create cutting edge, tailored treatment plans for each patientBenefits from a wealth of color images, procedural videos, and expert tips and tricksTakes a region oriented approach, providing guidance on treatment of the; glabella, forehead, periocular and perioral areas, and contouring of the lower face and lower leg and calf, and neck rejuvenationContains a thorough review of non-cosmetic treatments such as correction of facial asymmetry, and treatment of axillary hyperhidrosis, plus palm, sole, and craniofacial hyperhidrosisCovers exciting new topics, such as future injectables, topical botulinum toxin, and facial contouring including treatment for benign masseter hypertrophyDiscusses combination therapy of botulinum toxin with other non-surgical procedures such as hyaluronic acid (HA) or filler substances, light and laser sources, and other energy-based therapiesIncludes considerations for darker skin types Offer your patients the best care, stay on top of cutting edge techniques, and avoid pitfalls with coverage of practical tips and real cases.
Botulinum Toxins in Dermatology: Cosmetic and Clinical Applications provides best-practice guidance on the contemporary use of botulinum toxin in isolation and in combination.
Information
Format:Hardback
Pages:400 pages
Publisher:John Wiley and Sons Ltd
Publication Date:01/09/2017
Category:
ISBN:9781444338256
Information
Format:Hardback
Pages:400 pages
Publisher:John Wiley and Sons Ltd
Publication Date:01/09/2017
Category:
ISBN:9781444338256