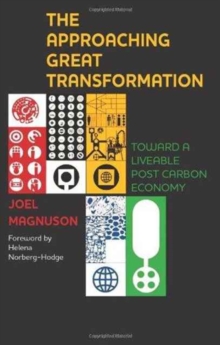 The approaching great transformation : Toward a liveable post carbon economy
Paperback / softback
Description
Joel Magnuson's visionary insights into the decline of the Oil Age and life afterward combine sobering warnings with genuine hope. The facts are hard: global oil deposits will soon peak if they haven't already and the violent race to secure what's left has already begun.
Meanwhile, our culture of consumption continues its heedless dependence on this and other scarce and fast-disappearing resources including other fossil fuels, water, topsoil, and basic metals.
The consequences won't just be expensive gasoline. The very nature of life as we've come to know it will change and Magnuson explains how compounding factors like global warming, skyrocketing debt, and ill-prepared governments stand to turn this inevitable change into a needless catastrophe.
But the hope is real: individuals and communities around the world have already begun taking action to shift away from consumer culture.
Drawing on the visionary work of E.F. Schumacher, John Ruskin, and other pioneering thinkers, Magnuson argues that mindful and concerted action can shape the future.
With an emphasis on current transitional projects like B Corporations and LETS projects, he shows that the true great transformation is already underway and it's up to us to continue it.
With a foreword by Helena Norberg-Hodge, founder and director of the International Society for Ecology and Culture (ISEC)
Free Home Delivery
on all orders
Pick up orders
from local bookshops