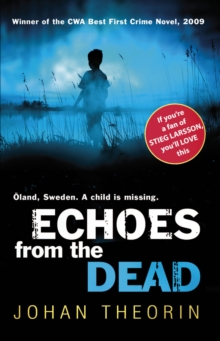 Echoes from the Dead : Oland Quartet series 1
Paperback
Description
Can you ever come to terms with a missing child? Julia Davidsson has not. Her five-year-old son disappeared twenty years previously on the Swedish island of Oland.
No trace of him has ever been found. Until his shoe arrives in the post. It has been sent to Julia's father, a retired sea-captain still living on the island.
Soon he and Julia are piecing together fragments of the past: fragments that point inexorably to a local man called Nils Kant, known to delight in the pain of others.
But Nils Kant died during the 1960s. So who is the stranger seen wandering across the fields as darkness falls?
It soon becomes clear that someone wants to stop Julia's search for the truth. And that he's much, much closer than she thinks ...
Information
Format: Paperback
Pages: 480 pages
Publisher: Transworld Publishers Ltd
Publication Date: 01/06/2009
Category: Thriller / suspense
ISBN: 9780552774635
Free Home Delivery
on all orders
Pick up orders
from local bookshops
Reviews
Showing 1 - 4 of 4 reviews.
Review by sunniefromoz
16/06/2015
What makes a book special for you? For me it's when the characters and the story stays with you after you've closed the book. All too often once the book is finished, The details begin to fade almost immediately. Not so with DEVIL'S PEAK by Deon Meyer.DEVIL'S PEAK begins with a prostitute telling her story to a clergyman. On her lap is a shoe box. What's in the box?Inspector Benny Giessel has just been thrown out of the house by his wife. She has given him an ultimatum. Choose either the booze or his family. He has six months to get sober and stay that way or he won't see his kids again. Benny is a veteran of the South African police. He is one of the very few left from the days of apartheid. In a force where the majority are young and inexperienced, a wise Superintendant realises the the value of a talented and experienced detective. With the support of his boss, Benny begins the slow, painful process of getting sober and staying that way.Someone is killing people with an Assegai (tribal spear). Many on the police force aren't that bothered because the victims are child killers. Benny is assigned to lead the investigation. Realising this may well be his last chance to save his career as well as his marriage, Benny puts everything into finding out the identity of the killer.The alcoholic detective is something of a staple in crime fiction; to the extent that it frequently becomes a cliché. Not so Benny. Meyer writes about Benny's struggle , self-recrimination and the realisation of the full impact of his drinking on his life, his family and his colleagues with a great deal of sensitivity . We feel Benny's pain, guilt and despair as struggles through "one day at a time."DEVIL'S PEAK was written in Afrikaans and translated by K.L. Seegers. Not only is the translation spot on, but Seegers has retained enough of the Afrikaans slang and dialect for the reader to easily imagine an Afrikaans accent.The sense of place and culture are also very strong. There is no way this book could be set anywhere but South Africa. DEVIL'S PEAK is not only well written with a nicely honed plot, but the author has also seamlessly incorporated a history lesson, a clear idea of diverse cultures and characters you won't forget in a hurry. These all combine to make DEVIL'S PEAK a memorable read on many levels.The second week of 2009 isn't over yet and already I feel I've read one of my top books for 2009.
Review by elkiedee
16/06/2015
More than twenty years ago, Julia's 5 year old son Jens went missing and was never found. They were on holiday visiting her parents. She doesn't know what happened to him, and is now depressed, living on sickness benefits and drinking too much wine. Then her father, Gerlof, rings for the first time in nearly a year, to tell her someone has sent him Jens' sandal. This prompts Julia and Gerlof to start trying to find out what really happened all those years ago, in the hope that, if nothing else, they can move on.A lot of evidence points to Nils Kant, who was known to be an unpleasant, sadistic man, and the story of the present day investigation is interspersed with flashbacks to his life from childhood. I'm not sure about some of the flashbacks, as we don't learn so much about what makes him bad, we just get lots of examples of it. There is also contradictory evidence though, which casts some doubt that Nils Kant killed Jens.I am a bit wary of missing children stories, but I was curious about a new to me Swedish writer and this sounded interesting enough to overcome my prejudice. The novel is quite long at 480 pages and seemed quite slow paced at first, but gradually I was drawn into the story. Both Julia and her dad were quite remote characters and felt difficult to get to know, but gradually they began to seem more real and engaged my sympathy. Julia also gets help and support from a local policeman and she and Lennart become increasingly attracted to each other.The setting of Echoes from the Dead is interesting – Oland is a real island, popular with Swedes as a holiday place, but very harsh and cold in the winter, and this inhospitable weather becomes part of the plot. Theorin himself spent summers there from childhood, and has now set 4 novels there. Echoes of the Dead has been referred to as the first book in a series, but it reads more like a standalone. I wonder if they're linked by their common setting on Oland rather than recurring characters? Finally, once I got into the book, the many twists and turns of the plot kept me turning the pages.Echoes from the Dead is an atmospheric debut and I will certainly be looking for Johan Theorin's other novels.Thank you to Transworld for sending me this book to review as part of their Great Crime Caper challenge.
Review by brokenangelkisses
16/06/2015
This book was recommended to me by a member of my book group. It is a Nordic crime thriller, the author's first book, and was voted Best First Mystery Novel by the Swedish Academy of Crime.A lost child. A buried secret. A truth worth killing for.It's all there in the strapline. In 1972 on Oland a young boy clambers over his grandparents' wall to go exploring. A thick fog rolls in and he is soon lost. A strange man materialises out of the fog, introduces himself as Nils, Nils Kant, and holds out a hand to the boy. The child, Jens, is never seen again. His mother, Julia, cannot accept he is dead.Twenty years later, one of the boy's shoes arrives in his grandfather Gerlof's post-box. Summoning his daughter, Jens' mother, they begin to investigate the past. Someone knows something, but what? And who? What really happened out there in the fog? Someone knows, and they're closer than Julia thinks…Twenty years ago…The prologue tells the story of Jens' disappearance in a simple but chilling way. I felt that it was a gripping introduction to the storyline and I found myself returning to it at several points as the story developed. Two distinct mysteries develop: what happened to the boy and who was the man he met in the fog? I felt that this was a very effective start to the plot.The story follows two paths as it progresses, alternating between Gerlof and Julia's investigation and the life of famed Oland villain Nils Kant. Following Nils from his childhood, it becomes clear that he is an egoistic, unpleasant child with a propensity for violence. Some Olanders believe that he could have killed Jens, but there is a flaw in their theory: Nils Kant died in 1962…or did he? If he didn't, whose body is buried in his grave? The two stories dovetail neatly together, sometimes repeating or reinforcing ideas but always developing in a logical way. I felt that the way the stories developed slowly heightened the focus on the storytelling.As for Julia, her investigation is more than a laying to rest of ghosts. It brings her back to life, helps to heal a fractured relationship with her father and even brings the hint of a new romance. This does mean that the pace of the story is very slow. Things happen; they are reflected upon, discussed, assimilated. There are some deaths and sudden events but much of the story is taken up with discussion and thought. This meant that although I found the story interesting, I did not find it gripping. There did not seem to be any great urgency to the story, perhaps because the key events had all taken place in the past. This is not a criticism and is largely due to the nature of the principal characters: retired men and a grieving mother.Towards the end of the story there is a greater sense of urgency but the tone remains largely calm and detached. I was able to anticipate the main elements of the ending in advance which also helped to create quite a gentle sense of closure, even when the events were actually quite violent. I felt the ending was satisfying as it was plausible and tied up all the loose ends. I also liked that the ending felt realistic – the discoveries made do not result in a magical, beautiful fixing of all faults; the ending is more nuanced than that, and is all the better for it. There is an epilogue related in a way that is distanced from the main characters and I felt that this worked well to create a sense of closure.From the opening pages Theorin evokes a great sense of place and this is sustained throughout the story, which is deeply atmospheric. Theorin's familiarity with the island – his mother's family lived on it for centuries and he is a frequent visitor – is evident and helps to create a convincing setting. There is a helpful map next to the prologue but I found that the story could be enjoyed without repeated reference to it. The harshness of the Alvar, a sort of wild meadow, is sharply evoked early on and so its threat is well established before it becomes a principal scene in the more dramatic part of the novel. I felt that the story was well structured as it became darker as it continued.I found Gerlof to be a slightly irritating character as he does seem to try to heighten his own importance by withholding information from his anxious daughter. Theorin dwells almost lovingly on the indignities or Gerlof's old age and accompanying illnesses, which is not something I found particularly interesting. I found Julia's situation more sympathetic although I imagine some readers may be frustrated by her extended refusal to face reality prior to the story beginning. I found the relationship between these characters formed the heart of the book which made it different to other crime stories I have read. Of course, readers who are more interested in the crime may find this exasperating.ConclusionsThis is a slow burning story which will suit a reader with patience and an interest in story and character relationships as well as plot. Due to the age and nature of the main characters it has a calm feel despite some dramatic events. The story develops in a way which is gently predictable but this is not a criticism – the events are predictable because of the careful way Theorin unfolds the story, not because they are thoughtlessly slotted together. I did not find that being able to anticipate later events dimmed my interest at all. If anything, the desire to have my theories confirmed heightened my interest in the story. I would recommend this story to fans of atmospheric, slow paced mysteries.This edition seems to be well-translated; the dialogue and description throughout felt natural and flowed well. The font is clear and easy to read. Sections within chapters are clearly separated and signposted, especially when the narrative switches from Julia to Nils. There are some pictures from Oland and of Theorin's family at the end of the book which I felt was rather self-indulgent but some readers might appreciate the opportunity to gain more of a 'feeling' for what Oland is like. The RRP is £7.99, so fairly typical, and not bad for 468 pages of story. It can be found for less online.
Review by juniperjungle
16/06/2015
I read Echoes from the Dead as my third book for The Great Transworld Crime Caper. I hadn't heard of Johan Theorin before seeing the book on the list for the challenge, but the synopsis sounded intriguing and the fact that it won the CWA Best First Crime Novel in 2009 encouraged me to make it one of my picks.<br/><br/>The book is set on the Swedish island of Öland, Julia left after the disappearance of Jens, her son, twenty years ago but Gerlof, her father, has remained on the island. When he receives what he thinks is Jens' shoe Julia returns and the two of them get involved in trying to solve the case. Whilst this is going on there is a secondary plot featuring Nils Kant, Gerlof's main suspect. This tells the story of how a young boy grows up to become a man feared by the island, capable of murder. <br/><br/>I have to admit I didn't really like many of the characters in the book. I found them hard to identify with and as a result didn't really feel invested in their stories. Gerlof in particular infuriated me, his habit of keeping secrets made me want to shake him on a number of occasions. I did find Julia to be a well created character, and maybe if I was a parent I would have been able to identify with her more - I certainly saw similarities between her and a family member who lost a child.<br/><br/>I did really like the way the two story lines wove around one another. Nils' storyline was probably more interesting, but I did find that I'd predicted virtually the whole last section of his story, along with the main story. As I've already said I didn't find the characters easy to engage with and so I did at times find it hard to keep going with the book.<br/><br/>I'm really sad to have ended my challenge with a book I didn't enjoy very much. I think it's probably more to do with the fact that I wasn't the right audience for the book than anything else.
Also in the Oland Quartet series | View all