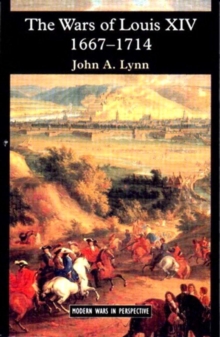 The Wars of Louis XIV 1667-1714
Paperback
Description
Warfare dominated the long reign of the `Sun-king', Louis XIV.
For forty years from 1672, France was continuously at war and had one of the largest armies seen in the West since the fall of imperial Rome.
The campaigns secured little territory, but almost bankrupted the country and the consequences for the French monarchy were dramatic - contributing to its eventual downfall.
John Lynn examines the wars for evidence of a coherent strategic policy; he explores the operational logistics of the campaigns; and considers their significance for France's diplomatic, political, mililtary, administrative and institutional This is the first modern, comprehensive study in any language, and offers a vivid insight into 17th and 18th century statesmanship and warfare - reaching a climax with the defeat of France by Marlborough at Blenheim.
Information
Format: Paperback
Pages: 440 pages
Publisher: Pearson Education Limited
Publication Date: 06/05/1999
Category: General & world history
ISBN: 9780582056299
Free Home Delivery
on all orders
Pick up orders
from local bookshops
Reviews
Showing 1 - 1 of 1 reviews.
Review by fdhondt
16/06/2015
Magnificent book by John Lynn. Gives back full glory to a period afwully neglected in present history teaching. The author makes a smooth combination of traditional chronological and "horizontal" analysis. The wars of Louis XIV being divided in two main categories (Wars of Glory Wars of Defence for France's borders), Lynn starts an apology of the Sun King. According to him, Louis XIV didn't actually go off on a quest for extra territory, from 1684 on he considers the natural borders of France to be achieved. Louis' main mistake being the revocation of the Nantes Edict (1685) and the chase of Protestants within and outside France (e.g. the unnecessary invasion in Savoy).A point I very much appreciated, was the thorough but necessary analysis of siege rather than battle warfare and the economic necessity for France's armies to keep themselves "fed" on enemy territory. In contrast to the Napoleonic wars (army collects bounty as a reward for quick victory, but is able to move on), foraging of installing tribute on another's subjects was a permanent occupation of Louis' generals. This is also the main reason why French (and other) generals do not exploit successes in the field. Ramillies (victory won by Marlborough in may 1706) proved to be extremely successful, the duke being able to recover all of the Southern Netherlands. But it remains a rare example. Whoever visits Blenheim Palace and notices the Tapestries recalling Marlborough's glorious deeds in the Netherlands, cannot but ask himself questions at the exposure of the Siege of Bouchain or Lille. The only answer is the nature of 17th century warfare itself. Even Turenne en Condé were already tied to what Geoffrey Parker calls "fortress warfare": major struggles around strongholds (e.g. on the Vauban précarre separating Paris from the Spanish Netherlands: Le Quesnoy, Landrecies, Arras, Bouchain, Lille, Ypres, Namur, Mons...) took much more time and were more "decisive" than battle in itself was.A third major asset this book provides, is the analysis of naval activities under Louis XIV. Integrating the "guerre d'escadre vs. guerre de course"-controversy, Lynn accurately points to Louis en Louvois' coordinated approach of land and sea warfare, in order to protect France's coastline .The Wars of Louis XIV is thé essential book for anyone interested in a synthetical, but thorough understanding of political and military problems of "the Grand Siècle".
Also in the Modern Wars In Perspective series | View all