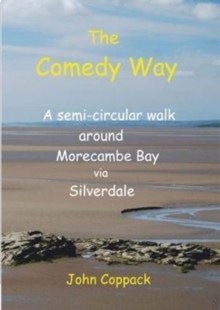 The Comedy Way : A semi-circular walk around Morecambe Bay via Silverdale
Paperback / softback
Description
The Comedy Way is a 30.5 mile (49 km) semi-circular walk around Morecambe Bay starting from the market town of Ulverston in Cumbria and ending in the Lancashire sea-side town of Morecambe.
The area covered by the walk has the finest coastal scenery in north-west England and is exceptionally rich in plant, bird and animal life.
Several nature reserves including the internationally famous RSPB Leighton Moss fall within the ambit of the walk.
The Comedy Way celebrates two of the greatest comic duos of the twentieth century, Laurel and Hardy and Morecambe and Wise.
Stan Laurel was born in Ulverston and in the central square of the town stands a statue immortalizing the comic genius of the actor and his slapstick partner.
The much loved comedian, Eric Morecambe, was born in the town that provided his stage name.
Located on the central promenade in Morecambe with the bay and the Lakeland hills forming a stunning backdrop stands a larger-than-life statue depicting the comedian in one of his characteristic poses.
The Comedy Way is book-ended by these two evocative memorials to the world of comedy.
The guidebook provides clear easy to follow route directions supported by 14 maps dedicated to route navigation as well as a wealth of practical information and safety advice.
Features of historical and archaeological interest along the route are highlighted and captured by 55 colour photographs.
Accommodation is plentiful along the route thus making this an ideal walk for those new to medium to long distance walking.
Even experienced walkers looking for a new trail, one that can be completed in two or three days, will find the Comedy Way an interesting and altogether delightful walk.
Information
Format: Paperback / softback
Pages: 97 pages
Publisher: Follifoot Publishing Limited
Publication Date: 01/12/2017
ISBN: 9780956246875
Also by John Alfred Coppack