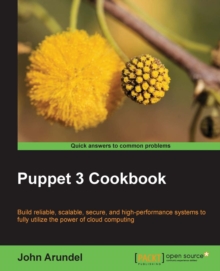 Puppet 3 Cookbook
Paperback / softback
Description
Puppet 3 Cookbook is written in a Cookbook style, showing you how to set up and expand your Puppet infrastructure.
It not only gives you everything you need to become a Puppet expert, but includes powerful code samples and techniques developed over many years of production experience.
With it, you'll save time and effort by automating tedious manual processes, impress your boss by delivering better business value from IT, and future-proof your career by getting to grips with the new technologies revolutionizing the industry.
Puppet 3 Cookbook is for anyone who builds and administers servers, especially in a web operations context.
It requires some experience of Linux systems administration, including familiarity with the command line, file system, and text editing.
No programming experience is required.
Information
Format: Paperback / softback
Pages: 274 pages
Publisher: Packt Publishing Limited
Publication Date: 26/08/2013
Category: Linux
ISBN: 9781782169765