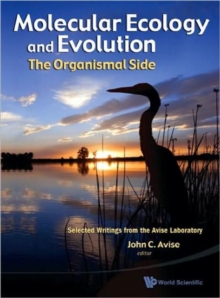 Molecular Ecology And Evolution: The Organismal Side: Selected Writings From The Avise Laboratory
Hardback
Description
This volume is a reprinted collection of 69 "classics" from the Avise laboratory, chosen to illustrate a trademark brand of research that harnesses molecular markers to scientific studies of natural history and evolution in the wild.
Spanning the early 1970s through the late 2000s, these articles trace how the author and his colleagues have used molecular genetics techniques to address multifarious conceptual topics in genetics, ecology, and evolution, in a fascinating menagerie of creatures with oft-peculiar lifestyles.
The organisms described in this volume range from blind cavefish to male-pregnant pipefishes and sea spiders, from clonal armadillos to natal-homing marine turtles, from hermaphroditic sea snails to hybridizing monkeys and tree frogs, from clonal marine sponges to pseudohermaphroditic mollusks to introgressing oysters, and from endangered pocket gophers, terrapins, and sparrows to unisexual (all-female) fish species to "living-fossil" horseshoe crabs, and even to a strange little fish that routinely mates with itself.
The conceptual and molecular topics addressed in this volume are also universal, ranging from punctuated equilibrium to coalescent theory to the need for greater standardization in taxonomy, from cytonuclear disequilibrium statistics to the ideas of speciation duration and sympatric speciation, from historical population demography to phylogenetic reconstructions of males' sexual ornaments, from the population genetic consequences of inbreeding to Pleistocene effects on phylogeography, and from the molecular underpinnings of null alleles to the notion of clustered mutations that arise in groups to compelling empirical evidence for the unanticipated processes of gene conversion and concerted evolution in animal mitochondrial DNA.
Overall, this collection includes many of the best, most influential, sometimes controversial, occasionally provocative, always intriguing, or otherwise entertaining publications to have emerged from the Avise laboratory over the last four decades.
Thus, this book conveys, through the eyes of one of the field's longstanding pioneers, what "the organismal side" of molecular ecology and evolution really means.
Information
Format: Hardback
Pages: 584 pages
Publisher: World Scientific Publishing Co Pte Ltd
Publication Date: 20/08/2010
Category: Molecular biology
ISBN: 9789814317757
Free Home Delivery
on all orders
Pick up orders
from local bookshops