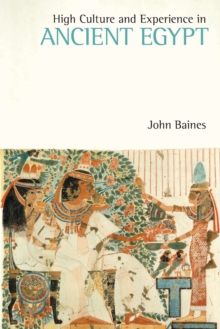 High Culture and Experience in Ancient Egypt
Paperback / softback
Description
This novel work uses case studies of both familiar and unfamiliar materials, expanding consideration of ancient Egyptian elite culture to encompass lived experience and exploitation of the natural environment.The opening chapter sets out the conceptual ground for the analyses that follow, arguing that the relatively ephemeral activities under investigation were centrally important to the actors.
The first and largest study treats human organization of the landscape and its use to create and transmit elite meanings, especially through pictorial and encyclopaedic forms, and to mobilize emotional values.
Next, a treatment of the planning of primarily third millennium settlements on the floodplain argues that Egypt offers a partly rural perspective that provides an alternative to the urban focus of many early civilizations but has parallels in elite culture in much of the world.
The third study discusses how a single year's events were orchestrated to culminate in a celebratory hunt in which the king, his court, and high officials participated. The concluding chapter presents an initial synthesis of Egyptian treatments of elite experience, drawing in particular upon additional evidence from literary texts and attitudes to travel.
Information
Format: Paperback / softback
Pages: 348 pages, 62 colour figures and one map
Publisher: Equinox Publishing Ltd
Publication Date: 20/01/2016
Category: Ancient history: to c 500 CE
ISBN: 9781781793626
Also in the Studies in Egyptology & the Ancient Near East series | View all