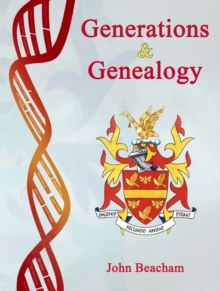 Generations and Genealogy : The Story of My Family
Paperback
Description
This is an absorbing and comprehensive family history, spanning over eight generations, from agricultural roots in Oxfordshire and the counties of East Anglia. It also strays into Lancashire, one of the hotspots of the Industrial Revolution, and further afield to the birth pangs of Canada, the USA and New Zealand.
It is a small part of the story of the ordinary unsung people of Britain over the last two hundred years.
A story where a small outpost on the edge of Europe changed from a rural agrarian society into an urban industrial nation.
A nation that by the end of the nineteenth century had become the most advanced in the world with an Empire of territories and possessions covering a quarter of the globe. The family carries the surname of Beacham, a shortened form of Beauchamp, whose origins have a Norman inheritance.
The name occurs regularly in Anglo Norman history with many so named people serving the monarch and affairs of state.
This account is about an unremarkable family with the same name in later times, who lived through the dramatic social and technological changes between the 18th and 20th centuries that made the modern Britain we know today.
In the main, these are lives of hardship and subsistence where unforeseen circumstances such as a death of a breadwinner, a poor harvest or a lost job could devastate a family and change its course forever.
Apart from their rural roots the wider family were involved in the Industrial Revolution through cotton spinning and weaving, coal and iron ore mining, canals and railways.
Domestic service also features significantly and oddly there are a disproportionate number of policemen. This account feeds our basic human need to know something about our forebears, who they were, where they came from, and how they survived.
Their lives have consciously or unconsciously influenced our own characters and sense of self.
Information
Format: Paperback
Publisher: John Beacham
Publication Date: 30/03/2018
ISBN: 9780950114606
Free Home Delivery
on all orders
Pick up orders
from local bookshops