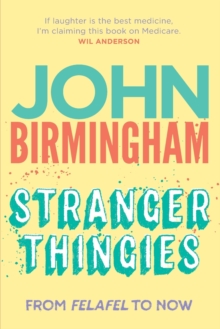 Stranger Thingies : From Felafel to now
Paperback / softback
Description
John Birmingham is a master of good writing and funny lines.
He has written a thousand stories, some true, some not so much.
These are the best ones and they're so good, and so funny, there has been no barrel-scraping involved.
Really, this book could have been much longer. The pieces contained within these pages run the gamut from the early felafel days to the shiny age we live in where Donald Trump is the President of the USA. And it does not shy away from the greatest controversy of our age: potato cake vs potato scallop. These hilarious pieces cover a wide range of topics from food to fitness and politics to pork, in all its glories. And, of course, fashion. Ever the equal opportunist, John Birmingham skewers them all.
Sales PointsJohn Birmingham has 60,000 twitter followers and a devoted blog following. Local and International fans of John Birmingham's blog will jump on this hilarious collection. Extraordinarily diverse collection of pieces ends up being more than a sum of its parts.
He can be politically-charged one minute and make observations about home life that will make readers grimace and guffaw at once. The book will appeal to Gen-X readers as well as those - older and younger - who are into Richard Glover, Benjamin Law, David Sedaris, Amy Schumer. Pieces are both timeless (yes to a '90s revival) and timely (imagine Paul Keating on the phone to Donald Trump). Quite a few of them will make you snort coffee through your nose from laughter.
Really. The title `Stranger Thingies' is inspired by the popular TV series Stranger Things, binge-watched by millions, but stands on its own.
Information
Format: Paperback / softback
Pages: 320 pages
Publisher: NewSouth Publishing
Publication Date: 30/08/2017
Category: True stories
ISBN: 9781742235592
Free Home Delivery
on all orders
Pick up orders
from local bookshops