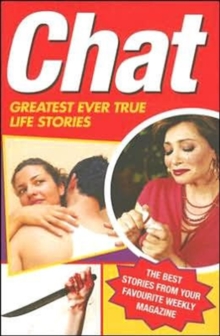 "Chat" Magazine : Greatest Ever True Stories
Paperback / softback
Description
At last, they're here! All your favourite true life stories from "Chat" magazine, crammed into one brilliant bumper book.
Every week, "Chat" magazine is packed with stories of ordinary people and the extraordinary things that have happened to them.
Now you can laugh, cry and gasp as you sit down and indulge in hundreds of stories and share in the highs and lows of the lives and loves of people just like you and me.
Take brave Kimberley who, with the help of her supportive neighbours, managed to overcome the shame she had felt after an attack by her violent, drug-addict boyfriend. Or poor Sue - people kept congratulating her on her baby bump, but the painful truth was that she was suffering from a fibroid so large that it made her look pregnant and sent her from a size 12 to a size 20.
These are just some of the enthralling and completely true stories in this exciting book.
You simply won't be able to put it down.
Information
Format: Paperback / softback
Pages: 254 pages, b/w integrated
Publisher: John Blake Publishing Ltd
Publication Date: 02/11/2016
Category: True stories
ISBN: 9781844543267
Also by John Blake Publishing