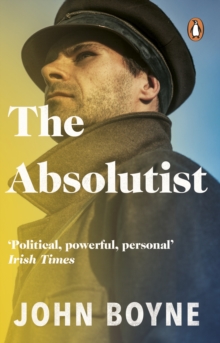 Description
September 1919: Twenty-year-old Tristan Sadler takes a train from London to Norwich to deliver a clutch of letters to Marian Bancroft.
Tristan fought alongside Marian's brother Will during the Great War.
They trained together. They fought together. But in 1917, Will laid down his guns on the battlefield and declared himself a conscientious objector, an act which has brought shame and dishonour on the Bancroft family. The letters, however, are not the real reason for Tristan's visit.
He holds a secret deep within him. One that he is desperate to unburden himself of to Marian, if he can only find the courage.
Whatever happens, this meeting will change his life - forever.
Information
Format: Paperback
Pages: 432 pages
Publisher: Transworld Publishers Ltd
Publication Date: 01/05/2012
ISBN: 9780552775403
Free Home Delivery
on all orders
Pick up orders
from local bookshops
Reviews
Showing 1 - 4 of 4 reviews.
Review by FuddlyButter
16/06/2015
an amazing read. beautifully tragic story which leaves you utterly emotionally drained by the end! a brilliant mixture of passion, fear, morality which gives a great a ccount of how i would imagine life would be as a soldier during the first world war. I got to care about the characters so much that i was totally devastated at the end! They really came to life for me through John's great story telling.
Review by NeilDalley
16/06/2015
This book has a masterful plot that draws you in to the complex tale of emotions and beliefs for a group of young men facing the horrors of the "Great War". It strips bare many of the predominant social attitudes of British society before, during and immediately after the war. It reminds us that during war the emotions of love, jealousy and anger are accentuated rather than being put on hold for the duration of the hostilities. I found the main character, Tristan Sadler, a very real and likeable person but some of the other characters seemed less well drawn and we didn't ever really understand their actions - although perhaps that is a reflection on the fact that the whole book is written from Sadler's perspective alone and he seems not to be a very good judge of character. I would agree with some other reviewers that the final chapters are not very strong but overall I found this a very challenging, interesting and inspiring read.
Review by sefkhet
16/06/2015
Six months later, and I still don't know exactly what I thought of this one. I started out by liking Tristan and ended up by not liking him at all, which is fair enough -- I don't think Tristan likes himself very much, in the end. I picked up on the secret that I thought Tristan had within the first chapter -- but that, although it had been *a* secret, wasn't what he was really hiding. I enjoyed it, for the first three hundred pages, and then hated it -- but I was still up until 2am because I had to know how it all ended. I didn't like Will much, but he didn't deserve -- ah, but you'll have to read it, for that part, all the way to the end.It's difficult and uncomfortable, and perhaps that's the point. If, six months later, it still lingers in the mind, then that probably means it's powerful enough to deserve a recommendation. But I don't know if it does. Because I don't know if the reason it still lingers is because I'm still cross that this is yet another instance of literature falling into an LGBT trope.
Review by AdonisGuilfoyle
16/06/2015
A good story which doesn't stand up to close inspection, unfortunately. Once past the first few chapters, clumsily introducing a fairly original (for me, anyway) twist on the standard 'trench narrative', I was quickly swept along by the plot, told in flashback. A year after the war, Tristan Sadler travels to Norwich to deliver in person a dead soldier's letters to his sister. He also has a confession to make which will not make him popular, for two reasons.All very engrossing, but the weak characters and irritating anachronisms kept whittling away at the credibility of the tale until, by the final forced 'twist', I didn't really care about Tristan or his misery. For a start, Tristan is less an unreliable narrator, and more of an awkward author insert. He claims to be the son of a butcher, who joined up at seventeen and was forced to leave school early, yet he speaks like a character from a novel by Evelyn Waugh, and is somehow gainfully employed as a publisher's assistant, straight after returning from the trenches and with no education. Also, Tristan's childhood echoes the 1970s - 'we're an item', 'feel her up' - more than the Edwardian era. The chapters set in France are trenches-by-numbers, with much mud and splattered brains, yet the awkward engineering of the denouement makes a mockery of Tristan and Will's relationship.In fact, Tristan's doomed devotion to Will was about the only part of the narrative I did buy, despite being telegraphed early and obviously. I would have appreciated further insight and a more 'organic' ending to their relationship, but John Boyne obviously favours the clever literary device.A fast-paced and dramatic read, let down by style over substance.