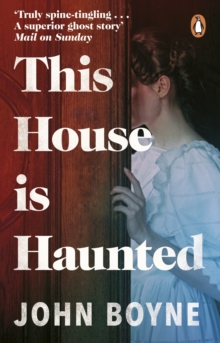 This House is Haunted
Paperback
Description
1867. On a dark and chilling night Eliza Caine arrives in Norfolk to take up her position as governess at Gaudlin Hall.
As she makes her way across the station platform, a pair of invisible hands push her from behind into the path of an approaching train.
She is only saved by the vigilance of a passing doctor.
It is the start of a journey into a world of abandoned children, unexplained occurrences and terrifying experiences which Eliza will have to overcome if she is to survive the secrets that lie within Gaudlin's walls.
Information
Format: Paperback
Pages: 352 pages
Publisher: Transworld Publishers Ltd
Publication Date: 10/04/2014
Category: Horror & ghost stories
ISBN: 9780552778428
Free Home Delivery
on all orders
Pick up orders
from local bookshops
Reviews
Showing 1 - 2 of 2 reviews.
Review by nicx27
16/06/2015
"I blame Charles Dickens for the death of my father". Who can fail to be intrigued by this opening line? Despite having all the components of a book that I wouldn't have expected to like - gothic, Victorian, ghosts - I absolutely loved this story. In it, Eliza Caine, having lost her beloved father, moves from London to Norfolk to take up a role as governess to two children at Gaudlin Hall. But nothing is as it should be and Eliza becomes more and more convinced of a malevolent force at work.Maybe it's the quality of John Boyne's writing (Crippen is one of my favourite books and who can forget the wonderful The Boy in the Striped Pyjamas) but he managed to write a ghost book that rang true to me which not many do. Eliza herself tells the story and I liked her voice very much. She is a level-headed narrator who tells a completely plausible story.I raced through this book and couldn't wait to find out what would happen next. And as well as the great opening lines, the book ends with a sinister, but not completely unexpected, turn of events. I enjoyed it all immensely.Thank you to the publishers and Netgalley for providing a copy for review.
Review by passion4reading
16/06/2015
Eliza Caine lives a settled existence in London with her widowed father, until he suddenly passes away. Enveloped in grief, she replies to an advert in the newspaper about the post of a governess in Norfolk. Being given the job, and on her way to Gaudlin Hall, she is suddenly struck by the strangeness of the advertisement, but nothing can have prepared her for the situation she finds herself in when she finally arrives at her destination.I rather liked the first few chapters, with its dreary, yet evocative, London setting, but then things went rapidly downhill: if it's possible to write a boring ghost story, then this is surely it. Gaudlin Hall is nearly devoid of atmosphere, and while the resident spirit is certainly malicious, the spooky goings-on left me quite cold, and there were few surprises, the whole plot plodding down well-trodden paths. Not once did my spine tingle, as the blurb announces so proudly. I think this is partly due to the main character Eliza being a somewhat irritating narrator, prone to inappropriate outbursts of laughter and comments towards other adults and even her charges, and I felt the rather clumsy attempts to add a dash of romance to the proceedings entirely misplaced. Add to this a couple of mild contradictions and inconsistencies, and I was only too happy to part with this book.