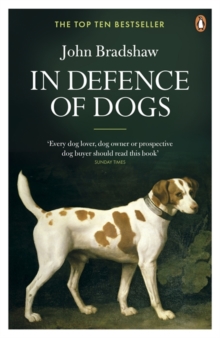 In Defence of Dogs : Why Dogs Need Our Understanding
Paperback
Description
What would dogs ask for, if they knew how? In the Sunday Times bestseller In Defence of Dogs John Bradshaw, an anthropologist at Bristol University who has been at the centre of the latest research into what makes dogs tick, gives us the answers.Overturning the most common myths about dogs' emotions and behaviour, this book shows how we should really treat our pets, and stands up for dogdom: not the wolf in canine clothes, not the small furry child, not the trophy-winner, but the real dog, who wants to be part of the family and enjoy life - mankind's closest friend.
This is the real science that every dog lover needs to know.
Information
Format: Paperback
Pages: 352 pages
Publisher: Penguin Books Ltd
Publication Date: 01/07/2012
Category: Popular science
ISBN: 9780141046495
Free Home Delivery
on all orders
Pick up orders
from local bookshops
Reviews
Showing 1 - 1 of 1 reviews.
Review by SandDune
16/06/2015
I'd recommend this book to all dog owners. It is a serious yet readable attempt to explain the current understanding of the behaviour of dogs by a scientist who has been studying this area for the last twenty years. And it seems that popular ideas of what motivates dogs behaviour are frequently wrong, in particular the idea that dogs are striving for a dominant position in the family, echoing a wolf's striving for a dominant position within its pack. The problem with this is that in the wild wolves apparently don't struggle for dominance within the pack: the dominant pair maintain their position for the simple reason that they are the parents or grandparents of the other wolves in the pack which is actually a fairly harmonious affair. So what appears to be dominant behaviour can actually just be the amalgamation of behaviours that dogs have found to get them what they want.Bradshaw has very firm views on the problems being created by the increasing focus on pedigree dogs which are bred primarily for show rather than for the purpose of becoming family pets. And not just for those particular breeds that are known to have health problems. Here he describes the issue of the lack of genetic variability within breeds:<I>'Mongrels maintain levels of variability that are similar to those found globally in our own species. In many individual breeds however, the amount of variation within the whole breed amounts to little more than is typical of first cousins in our own species. And we humans know that repeated marriages between cousins eventually lead to the emergence of a wide range of genetic abnormalities, which is why marriages between close relatives are taboo in most societies. It is astonishing that the same consideration has not been given to dogs.'</I>Altogether a very thought provoking and interesting book.