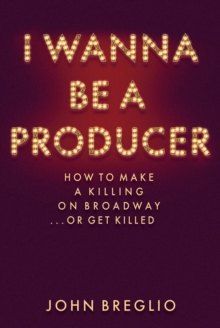 I Wanna Be a Producer : How to Make a Killing on Broadway...or Get Killed
Hardback
Description
What does a producer actually do? How does one travel from that great idea for a show to a smash hit opening night on Broadway?
John Breglio cannot guarantee you a hit but he does take the reader on a fascinating journey behind-the-scenes to where he himself once stood as a child dreaming about the theatre.THPart memoir part handbook EI Wanna Be a ProducerE is a road map to the hows and wherefores the dos and don'ts of producing a Broadway play written by a Broadway veteran with more than 40 years of experience.
This comprehensive and highly informative book features practical analysis and concepts for the producer a and is filled with entertaining anecdotes from Breglio's illustrious career as a leading theatrical lawyer and producer.
Breglio recounts not only his first-hand knowledge of the crucial legal and business issues faced by a producer but also his experiences behind the scenes with literally hundreds of producers playwrights composers and directors including such theatre luminaries as Michael Bennett Joe Papp Stephen Sondheim Andrew Lloyd Webber Patti Lupone August Wilson and Mel Brooks.
Whether you are a working or aspiring producer an investor or are just curious about the backstage reality of the theater Breglio shares his knowledge and experience of the industry conveying practical information set against the real-life stories of those who have devoted their lives to the craft.
Information
Format:Hardback
Pages:320 pages
Publisher:Applause Theatre Book Publishers
Publication Date:01/04/2016
Category:
ISBN:9781495045165
Also in the Applause Books series | View all