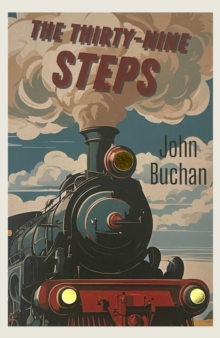 The Thirty-Nine Steps
Paperback
Description
With a new Introduction by Cedric Watts, Research Professor of English, University of Sussex. Richard Hannay finds a corpse in his flat, and becomes involved in a plot by spies to precipitate war and subvert British naval power.
The resourceful victim of a manhunt, he is pursued by both the police and the ruthless conspirators. The Thirty-Nine Steps is a seminal `chase' thriller, rapid and vivid.
It has been widely influential and frequently dramatised: the film directed by Alfred Hitchcock became a screen classic.
This engaging novel also provides insights into the inter-action of patriotism, fear and prejudice.
Information
Format: Paperback
Pages: 128 pages
Publisher: Wordsworth Editions Ltd
Publication Date: 05/12/1993
ISBN: 9781853260803
Other Formats
Paperback from £2.50
eAudiobook MP3 from £5.84
Hardback from £8.35
EPUB from £0.99
Mixed media product from £13.20
Free Home Delivery
on all orders
Pick up orders
from local bookshops
Reviews
Showing 1 - 5 of 6 reviews.
Previous | Next
Review by johnthefireman
16/06/2015
Not only is it a classic and a great thriller, but it also features a lot of action on a train. What more could one want?
Review by LynnB
16/06/2015
I bought this book because it was described as the novel that started the spy novel genre. The plot is contrived -- the hero getting involved in serious espinonage just because he's bored; and everyone he meets seems more than willing to believe his story and help him. But, it's a page-turner, it's short, and the author is a former Governor General of Canada.
Review by Figgles
16/06/2015
Reading one Richard Hannay adventure is like taking a chocolate from a box, it's hard to stop at just the one. Brief and thrilling, if you can get over some of the cringworthy references to Jews (autre temps etc) it's the perfect read for a lazy afternoon. All JB's themes are there but the essence of a thriller is the working out of the formula and there is a magical sense of time and place.
Review by elliepotten
16/06/2015
Richard Hannay is bored out of his skull in London, and about ready to head abroad again in search of a more diverting life. But lo! In the first of many amazing coincidences, his American neighbour accosts him in the hallway that very day and begs him for help. He has discovered a cunning plot to start a war between Germany and Russia, and since he knows too much, the men in question want him dead.A day or two later, when Hannay finds said neighbour on his smoking room floor with a knife through his heart, he realises he must run - so run he does! With the police behind him for murder, and the warmongers out to stop him hijacking their plans at any cost, the book becomes a helter-skelter race against time as Hannay fights to stay alive long enough to act on his late friend's information and stop the dastardly German plot.There's a whole lot of running across moors and splashing through streams, improvised disguises and quick thinking, and, of course, hiding from that iconic aeroplane full of baddies. Buchan wrote that he meant this to be a "shocker' - the romance where the incidents defy the probabilities, and march just inside the borders of the possible' - and that is exactly what he delivers. It is fast and absorbing, faintly amusing and utterly absurd at times - and well worth a couple of hours of guilty-pleasure reading time!
Review by ponsonby
16/06/2015
Difficult to know what to say about this book, one of the first espionage 'thrillers'. As often observed it does contain a few racist lines (against Jewish people) but no more so than many other books of 19th and early 20th century period (cf Trollope). Its main flaws are (1) the unlikelihood of the chase situation which is set up (if you really wanted to disappear after a murder would you really go off to a lonely country area where you stick out like a sore thumb?) (2) the claim that the police would be on his track so efficiently when they would have no idea where he had gone, and (3) the schoolboy explanations of politics, national interest etc. Particularly funny is that the book envisages as a main plot driver that Britain would have shared its naval dispositions with France before WWI, as it actually did its army planning. Having read the book I can see why the various film versions have been based on substantial adaptations to the original plot. Worth reading if you have seen one of those adapatations, but probably not otherwise.
Also in the Wordsworth Classics series | View all