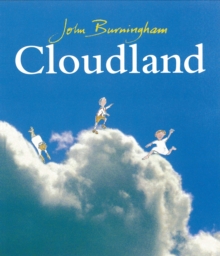 Cloudland
Paperback / softback
Description
Albert and his mum and dad go walking one day in the mountains.
Unfortunately, Albert slips and disappears over the edge of a cliff; his parents are very upset.
Albert is lucky though - the Cloud Children see his fall and speak the magic words ("They either said, Fumble gralley goggle ho hee", or "Teetum waggle bari se nee", or was it "Gargle giggle fiddle num dee?") that make Albert light enough to float among the clouds, with them.
Albert sleeps that night drifting in the sky. The next day, Albert and the Cloud Children have lots of fun: jumping off tall clouds, making as much noise as they can in the thunderstorm, swimming in the rain, painting pictures next to the rainbow and walking on the filmy traces left by passing aircraft.
When Albert wants to go home again, the Queen arranges for his cloud to drift near his home, and for him to gently float down - but not before they all have feasted with the Man in the Moon!
Information
Format: Paperback / softback
Pages: 48 pages
Publisher: Random House Children's Publishers UK
Publication Date: 04/03/1999
Category: Picture books
ISBN: 9780099711612