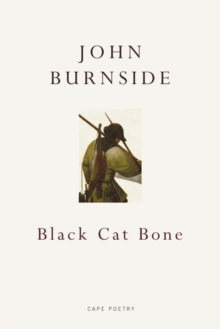 Description
John Burnside's remarkable book is full of strange, unnerving poems that hang in the memory like a myth or a song.
These are poems of thwarted love and disappointment, of raw desire, of the stalking beast, 'eye-teeth/and muzzle/coated with blood'; poems that recognise 'we have too much to gain from the gods, and this is why/they fail to love us'; poems that tell of an obsessive lover coming to grief in a sequence that echoes the old murder ballads, or of a hunter losing himself in the woods while pursuing an unknown and possibly unknowable quarry.
Drawing on sources as various as the paintings of Pieter Brueghel and the lyrics of Delta blues, Black Cat Bone examines varieties of love, faith, hope and illusion, to suggest an unusual possibility: that when the search for what we expected to find - in the forest or in our own hearts - ends in failure, we can now begin the hard and disciplined quest for what is actually there. Full of risk and wonder, Black Cat Bone shows the range of Burnside's abilities, but also strikes out for new territories.
He remains consistently, though, one of our finest living lyric poets and each of these astonishing poems is as clear and memorable as 'a silver bracelet//falling for days/through an inch and a half/of ice'.
Information
Format: Paperback
Pages: 80 pages
Publisher: Random House Children's Publishers UK
Publication Date: 04/08/2011
Category: Poetry by individual poets
ISBN: 9780224093859
Free Home Delivery
on all orders
Pick up orders
from local bookshops
Reviews
Showing 1 - 1 of 1 reviews.
Review by joannasephine
16/06/2015
I'm a big fan of John Burnside's poetry. So when I heard that this latest collection had won the 2011 Forward Prize, I had great hopes for a thoroughly engrossing read. What I got instead was bafflement and wispiness.The collection opens with its strongest poem, the eerie and often disturbing "The Fair Chase". The poem recounts the story of a nameless hunter, 'bound to the old ways, lost in a hand-me-down greatcoat // and last among equals', pursuing an unseen quarry 'every day, in every season'. The group is a motley one, including 'blacksmiths and lawyers, orchardmen, // butchers in waiting', so bound to their quest, that 'when one man sickened and died, / another would take his place'. So far, so good. And the poem unwinds its tale through ninety triplet stanzas, working by hint and suggestion rather than direct reference. A "Rime of the Ancient Mariner" brought on to land and poured through the myth of the Wild Hunt, perhaps. There are a few passages that just sing -- the description of the narrator when he finally confronts his prey is both beautiful and horrible, and the skill with which Burnside slows everything down shows an understanding of suspense that film makers would kill for. The poem ends in mystery, but with a strong sense of the matters at stake here -- life and death, loss, longing, and the price we pay for all of them. The mystery feels right, because this poem sets the tone for everything to follow, and we turn the page with a certain eagerness to see what will crystalize out of this mist.And the answer is ... more mist. And fog. And blear. The poems that follow circle around and around, and never actually come to any conclusion. Things are suggested, but never depicted or revealed or made visible. The rest of the book feels like the poems never made it out of the nebulous world of the first draft. Yes, there are lovely lines and images. Burnside has a lovely song to his work. But there's no meat here, nothing tangible. "Nativity", the first poem in the title sequence, begins with fog (literally, as well as metaphorically), and manages to coalesce into the abrupt and shocking realization that you've been reading about a woman dying in childbirth. Again, as the first poem in a sequence, you expect it to set the tone for things to come, and hope rises for some meat, some grit, something real even if brutal. But no. Instead, we have the matter of the first poem largely repeated in the next, but with yet more murk ('the secret / Nineveh of back rooms in the dark.'). "Death Room Blues" gives way to a poem which again begins interestingly ('I found a bobcat dying in the road / and stole the tattered remnant / of its soul') but quickly retreats back into obscurity ('I was the Alpha ... I was the Omega'). The poems reach timid fingers towards some sort of profundity, but never manage to lift above abstraction and murk.Yes, I'm being harsh. He's a poet I admire, and expect a lot of. Yes, the poems have been widely praised. And it may be that there is something profound going on here that I'm just not tuning in to. But to me this reads like a book that the author doesn't believe in, that goes nowhere, and that hasn't been finished. In the words of the collection's final piece, "From the Chinese" (a good poem); 'this is the time of year when nothing to seegives way ...'"Nothing to see" sums things up rather well. And while other critics have quoted the final line of the poem as praise, saying that <i>Black Cat Bone</i> leaves them 'dumbstruck, ready to be persuaded', it just leaves me struck dumb. And definitely not persuaded.