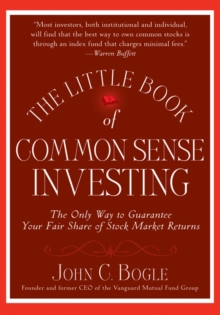 The Little Book of Common Sense Investing : The Only Way to Guarantee Your Fair Share of Stock Market Returns
Hardback
Description
Investing is all about common sense. Owning a diversified portfolio of stocks and holding it for the long term is a winner's game.
Trying to beat the stock market is theoretically a zero-sum game (for every winner, there must be a loser), but after the substantial costs of investing are deducted, it becomes a loser's game.
Common sense tells us-and history confirms-that the simplest and most efficient investment strategy is to buy and hold all of the nation's publicly held businesses at very low cost.
The classic index fund that owns this market portfolio is the only investment that guarantees you with your fair share of stock market returns.
To learn how to make index investing work for you, there's no better mentor than legendary mutual fund industry veteran John C.
Bogle. Over the course of his long career, Bogle-founder of the Vanguard Group and creator of the world's first index mutual fund-has relied primarily on index investing to help Vanguard's clients build substantial wealth.
Now, with The Little Book of Common Sense Investing, he wants to help you do the same. Filled with in-depth insights and practical advice, The Little Book of Common Sense Investing will show you how to incorporate this proven investment strategy into your portfolio.
It will also change the very way you think about investing.
Successful investing is not easy. (It requires discipline and patience.) But it is simple.
For it's all about common sense. With The Little Book of Common Sense Investing as your guide, you'll discover how to make investing a winner's game:* Why business reality-dividend yields and earnings growth-is more important than market expectations* How to overcome the powerful impact of investment costs, taxes, and inflation* How the magic of compounding returns is overwhelmed by the tyranny of compounding costs* What expert investors and brilliant academics-from Warren Buffett and Benjamin Graham to Paul Samuelson and Burton Malkiel-have to say about index investing* And much more You'll also find warnings about investment fads and fashions, including the recent stampede into exchange traded funds and the rise of indexing gimmickry. The real formula for investment success is to own the entire market, while significantly minimizing the costs of financial intermediation.
That's what index investing is all about. And that's what this book is all about. JOHN C. BOGLE is founder of the Vanguard Group, Inc., and President of its Bogle Financial Markets Research Center.
He created Vanguard in 1974 and served as chairman and chief executive officer until 1996 and senior chairman until 2000.
In 1999, Fortune magazine named Mr. Bogle as one of the four "Investment Giants" of the twentieth century; in 2004, Time named him one of the world's 100 most powerful and influential people, and Institutional Investor presented him with its Lifetime Achievement Award.
Information
Format: Hardback
Pages: 240 pages
Publisher: John Wiley and Sons Ltd
Publication Date: 15/02/2007
Category: Investment & securities
ISBN: 9780470102107
Other Formats
Hardback from £14.65
EPUB from £15.59
PDF from £15.59
Free Home Delivery
on all orders
Pick up orders
from local bookshops
Reviews
Showing 1 - 5 of 6 reviews.
Previous | Next
Review by beatbox32
16/06/2015
I'm 29-going-on-30 and wishing that I had absorbed the wisdom imparted in this book when I first signed up for a 401k. But here I am, seven years later, finally having a real understanding of where I should stash my retirement nest egg.The premise behind this book is simple - index funds have proven to be the wisest vehicle to throw your money in to achieve long-term profits. Bogle does an excellent job of explaining why this is, utilizing the "humble arithmetic" behind his thesis. For those who are like my old self and unsure of the best way to invest your retirement savings, look into low-cost index funds. And don't just throw your money in there...purchase this book and understand WHY you should.
Review by rayski
16/06/2015
Index Funds sums it all up. A quick read, but leaves you wanting more. More like William Bernstein's 'The Four Pillars of Investing' which is a superior read.
Review by RamiFaour
16/06/2015
The message of this book are very clear, and John Bogle makes sure that you will understand it by repeating it too many times.The message is the following: the best investing strategy is to invest in the american companies, all of them, from all sectors, or more practically in an index fund(S&P500, etc), and to hold on through the roller coaster of the market.But Bogle offers more than this first step, the next step is making sure to MINIMIZE costs, in the form of taxes, and fees. Bogle shows, convincingly, how in the long term, expense ratios as little as 1% add up in the long run to make a significant difference on the returns of one's portfolio.One must always keep in mind the story presented in the beginning of the book, where a family is prospering by investing in real business, but is soon deranged by mediators who charge fees and promise returns, only to take up a big portion of the income that the whole family used to enjoy. This point is very important, maybe not for Bogle, but for any aspiring Bogle.
Review by sbarrow57
16/06/2015
This is the first book that I have read on index investing and I was a little disappointed. The author spells out his investment strategy of using index funds to cover the whole market very eloquently in the first couple of chapters. After that the little book of common sense investing does not seem so little as the later chapters drag on and just seem to constantly repeat what has already been stated.Also it is a bit too US centric for a a potential investor from the UK.
Review by ganesh.kudva.groups
16/06/2015
Book is more about convincing you about long term index investing. If you are expecting information on fundamental analysis, this one is not for you!
Also in the Little Books. Big Profits series | View all