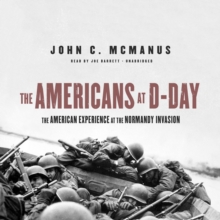 The Americans at D-Day : The American Experience at the Normandy Invasion
eAudiobook MP3
Please note: eAudiobooks can only be purchased with a UK issued credit card.
Description
June 6, 1944, was a pivotal moment in the history of World War II.
On that day the climactic and decisive phase of the war in Europe began.
Those who survived the intense fighting on the Normandy beaches found their lives irreversibly changed.
That day ushered in a great change for the United States as well, because on D-day America began its march to the forefront of the Western world.By the end of the Battle of Normandy, almost one out of every two soldiers involved was an American, and without American weapons, supplies, and leadership, the outcome of the invasion and ensuing battle could have been very different.In the first of two volumes on the American contribution to the Allied victory at Normandy, John C.
McManus examines, with great intensity and thoroughness, the American experience in the weeks leading up to D-day and on the great day itself.
From the buildup in England to the night drops of airborne forces behind German lines and the landings on the beaches at dawn, from the famed figures of Eisenhower, Bradley, and "Lighting Joe" Collins to the courageous, but little-known privates who fought so bravely and under terrifying conditions, this is the story of the American experience at D-day.
What were the battles really like for the Americans at Utah and Omaha?
What drove them to fight despite all adversity? How and why did they triumph? Thanks to extensive archival research, and the use of hundreds of firsthand accounts, McManus answers these questions and many more.Impressively researched, engrossing, lightning quick, and filled with human sorrow and elation, The Americans at D-Day honors those Americans who lost their lives on D-day, as well as those who were fortunate enough to survive.
Information
Format: eAudiobook MP3
Run-time: 13 hours 9 mins
File size: 1083.79MB
Publisher: Blackstone Audio
Publication Date: 26/12/2017
Category: Second World War
ISBN: 9781538495117
Download and listen
eAudiobook