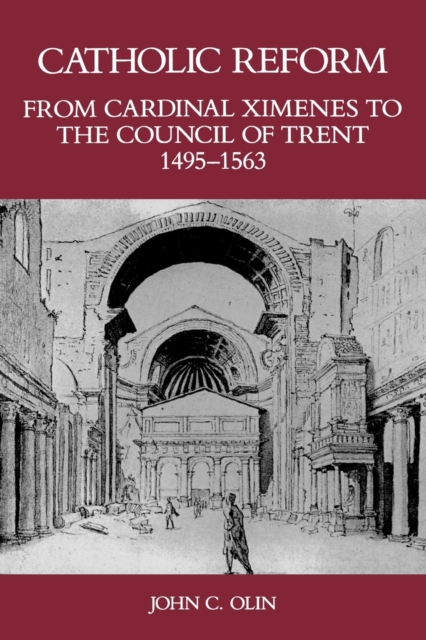 Catholic Reform From Cardinal Ximenes to the Council of Trent, 1495-1563: : An Essay with Illustrative Documents and a Brief Study of St. Ignatius Loyola
Hardback
Description
The sixteenth century in Europe is characterized historically by the religious upheaval known as the Reformation, with attention generally focusing on Luther and the other Protestant reformers who broke from the established church.
This development however, major as it was, is not the whole story of reform in the sixteenth century.
Underlying and encompassing the Protestant Reformation was a broader search for religious renewal and reform that remained within the Catholic Church and is sometimes referred to was the Catholic Reformation.
This volume focuses on this surprisingly neglected aspect of sixteenth-century religious reform, filling an important need in Reformation studies.
John C. Olin, well known for his writings on Erasmus and the Reformation, shows how Catholic reform did not begin in opposition to Protestantism but as a parallel movement, springing out of the same context and responding to very similar needs for religious change and revival.
The book opens with an introductory essay that views the course of Catholic reform from the initiatives of Cardinal Ximenes, who became archbishop of Toledo and primate of Spain in 1495, to the work of the Council of Trent in 1563 - years of crucial importance for the survival and revival of the Catholic faith.
Following the essay are several key documents, including the preface to the Complutensian polyglot bible and decrees of the Council of Trent, that illustrate from contemporary sources the character of the movement of Catholic reform.
There is also a brief study of St. Ignatius Loyola, as well as numerous illustrations and an extensive bibliography.
Information
Format:Hardback
Pages:152 pages
Publisher:Fordham University Press
Publication Date:01/01/1990
Category:
ISBN:9780823212804
Other Formats
Paperback / softback from £25.55
Information
Format:Hardback
Pages:152 pages
Publisher:Fordham University Press
Publication Date:01/01/1990
Category:
ISBN:9780823212804