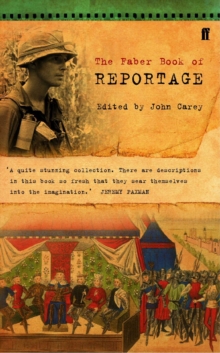 The Faber Book of Reportage
Paperback
Description
What was it like to be caught in the firestorm that destroyed Pompeii?
To have dinner with Attila the Hun? To watch the charge of the Light Brigade? To see the Titanic slide beneath the waves? John Carey's best-selling "Faber Book of Reportage" draws its eyewitness account from memoirs, travel books and newspapers.
This is history with the varnish removed. "A quite stunning collection. There are descriptions in this book so fresh that they sear themselves into the imagination". (Jeremy Paxman).
Information
Format: Paperback
Pages: 752 pages
Publisher: Faber & Faber
Publication Date: 16/10/1989
Category: Literary essays
ISBN: 9780571141630
Free Home Delivery
on all orders
Pick up orders
from local bookshops
Reviews
Showing 1 - 3 of 3 reviews.
Review by brett_in_nyc
16/06/2015
Such a great way to read the diary writings of people like Mary Queen of Scots on the day of her execution, and the refugees fleeing forever the eruption of Mt. Vesuvius by sea since there were no planes or trains or fast roads out of there! It is a wonderful glimpse into an ancient world, that was not so different from ours, and to which I feel still deeply a part of and contiguous.
Review by Polaris-
16/06/2015
This was a fascinating collection to dip in and out of in small doses. Reading too much of it in one sitting would have been a bit overwhelming and - certainly in the latter 20th century chapters - also somewhat depressing. Such is the perhaps unfortunate emphasis on military history and various violent episodes, particularly in the modern era, that it loses a star for my rating. There are many chapters here though also of a social history bent - including pieces from historic medical notes, notorious crimes, and also several great natural events such as Pliny on the eruption of Vesuvius, a 1724 solar eclipse, and Jack London on the 1906 San Francisco earthquake. There are many gripping and unique perspectives given throughout this book to much of human history. That said, there is precious little from African, Latin American, or Asian history (unless there is a colonial, pseudo-colonial or ex-colonial war going on...). But if it's battles, assassinations, plagues, historic firsts, executions, exploration and great acts of derring-do, advancements in technology, ritual practices, prisons, mutinies, revolutions, and sporting occasions you're after - then this is the book for you!Many excerpts stood out, making the collection well worth it if you can find a used copy online or happen upon one in a used bookshop. There were also a fair few less memorable pieces. With just a handful shy of 300 contributions, totaling 686 pages that is inevitable. Some of my personal favourites were: Plato on the death of Socrates; 3 different eye-witness reports of the sinking of the Titanic; Dinner with Atilla the Hun in about the year 450; Oskar Kokoschka with Austrian cavalry on the Eastern Front in 1915; Noel Monks' report from Guernica - just before AND after the German bombing - incredibly moving; Cecil Brown's ship-borne report from the Japanese air & submarine attack (read sinking) of HMS Prince of Wales & HMS Repulse, in Singapore just a few days after Pearl Harbor - shocking in its rapidity; and Charlotte Bronte inside the Great Exhibition's Crystal Palace.
Review by psutto
16/06/2015
GoodJohn Ed Carey edits a book which takes the best of first person eye witness (in the majority of cases) reportage of disasters, war, sporting events and historical events and puts them chronologically all in one book. Within are many many famous events and famous names and often famous names at events, Churchill, Hemmingway, Orwell to name just 3. It starts in the ancient world and stops in the mid 80's. Editorial choice is the one bum note here with no consistency, some of the historical accounts are written with modern spelling, some are not, some have translations of the French, Latin, Spanish and other language quotes within (all articled are in English but some have quotes within), others do not, most are eye witness but he breaks his own rules occasionally to put in 2nd hand accounts. However do not let this distract you this is a must read collection if you have any interest in reportage or history. Some of the writing is raw, many of the articles are powerful and some of the writing is purely beautiful. I read in one glut but I feel that this would be best to dip into. It's a massive book (686 pages + notes and index) and I can see how some events have entered our collective consciousness due to the brilliant way they were captured through reportage - Stanley & Livingston, Scott's last diary, the charge of the light brigade etc.So here's my question - is reportage alive and well and living in blogland or is it dead considering that journalism relies more and more upon press releases and third hand reporting?The book was published in the mid 80's and I do wonder if there were a Faber book of Reportage 2 what it would look like - would it be blogs and twitter feeds? would it still contain eye witness journalism? Is eye witness journalism a lost art as we all now rely upon TV (and that has changed substantially since the satellite link) & photos, seeing is believing? Who are the masters now in journalism of painting a picture with words? Overall – Mixed bag, some good, some indifferent but always interesting