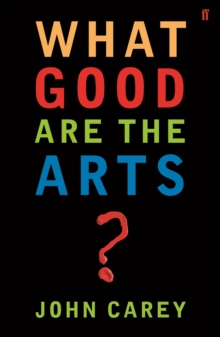 What Good are the Arts?
Paperback
Description
From one of the country's most eminent reviewers and academics, a delightfully sceptical and devastatingly intelligent assessment of the true value of art.
Information
Format: Paperback
Pages: 320 pages
Publisher: Faber & Faber
Publication Date: 01/06/2006
Category: Theory of art
ISBN: 9780571226030
Other Formats
Hardback from £22.15
EPUB from £7.98
Free Home Delivery
on all orders
Pick up orders
from local bookshops
Reviews
Showing 1 - 1 of 1 reviews.
Review by demot
16/06/2015
This book is not quite what you might think from the cover. It suggests it may be an enquiry into The Arts, but in fact it is a 100 page defence of the value of literary fiction and poetry, prefaced by 170 pages of saying how painting and music are nothing much. There are many good reviews of this book in newspapers & journals, both critical and positive, and most available online. I must admit I was as much persuaded to read it by the quote on the back cover from Jeanette Winterton calling it 'idiotic' as that from Rupert Christiansen calling it 'exhilarating and suggestive.' In fact both are true, as so often it suggests interesting ideas as you try to work out why he is so wrong. Different reviewers have found different reasons for becoming frustrated with the book. For my part, it was because of the outrageous sophistry of his arguments. He seems to use every fallacy available, attacking the person not the idea, making sweeping generalisations, setting up caricatures of opponents and knocking them down with torrents of scorn. I found it useful to read it alongside Anthony Weston's great little book 'A Rulebook for Arguments,' using Carey as a textbook of what-not-to-do. One example that springs to mind, he argues that Churchill's wartime government valued paintings more than human life, because they moved the national art collection into disused slate mines, but did not do the same for the population of London. He repeatedly seems to suggest that anyone with alternative opinions must be a heartless fascist.At the start of the second section, he gets into his real point - 'Literature is superior to the other arts.' (p.173) On getting over the arrogance of this stance, I gradually worked out what it was that so irritated me. He speaks for the bulk of the book about the visual arts, but it gradually becomes clear that he just doesn't 'get' it. I thought the title was rhetorical, but he really does not understand the value of the arts as arts. He thinks the arts are inane, at best an enjoyable entertainment.Some reviewers have said that this is contradicted by his championing of literature, but on close inspection it turns out that he thinks literary fiction is superior only in so far as it is a sort of philosophy, not an art. 'Only literature can criticize, then. Further, only literature can moralize. Nowadays this is frowned on. Literature, we are advised, should show not tell. It should work obliquely, through narrative. This is rather like saying that Christ would have done better to stick to parables.' (p.181) His defence of literature is that it is 'not just to delight like painting or music.' (p.176) which misses the whole point of difficulty in the arts. Do people go to modern art for 'delight'? It reminds me of Freud, who, having been told that his book on religion completely omitted the central point of religious (oceanic) experience wrote "I cannot discover this 'oceanic' feeling in myself." !Two quotes from Carey on the visual arts: 'Even Marlowe's lines are beyond the reach of visual arts like painting or photography. You cannot paint grass green emeralds, except by some ponderous device like juxtaposing painted grass and painted emeralds, whereas language can merge the two in a flash.' (p.216)And in analyzing a passage from Shakespere's Richard III - 'How can a shadow be like an angel? Shadows are grey.' (p.218) ! He seems to suffer from boundless literalism.So how can he deal with poetry, most of which is surely nothing if not an art? You can tell from the poetry he quotes that he is in fact moved by it, but the only explanation for this he can find is that poetry is 'indistinct.' Well, yes - artistic, aesthetic, 'spiritual' experience must seem 'indistinct' to those who don't want to attend to it, and allow only a vague feeling to find its way through to consciousness.He doesn't seem to know that the arts can help us make sense of life, not in the literal sense of marshalling our ideas, but in patterning the deeper, underlying sea of non-discursive thought that lies behind our words and actions. I don't mean unconscious thought, but that private, unspoken, but very conscious thinking which is experienced directly, without words, and gives significance to mere fact. 'None of the fundamental things of life has words attached to it.' (Edwin Glasgow 1936 The Painter's Eye)'Intellectual people too often feel obliged to pretend an interest in arts for which they have no natural inclination. The man of abstract mind apprehends great ideas presented in the abstract medium of literature, but in the concrete of painting he is easily deceived by associations with words into spending his admiration on mean forms, on foolish labour, on purposeless colour.' R.A.M. StevensonCarey says he wants to burst the pomposity of elitist art-worshipers, but he never knows where to stick the pin, having no idea that there is real value to be distinguished from the fake. If you never understood why some people think the visual arts, music, etc can be powerful, even 'spiritual' experiences, of great importance in their lives, then you can enjoy the confirmation of a professor who doesn't 'get' it either. He will tell you there is nothing to get. Don't buy this book if you want a serious consideration of the place of the arts in the modern world, or if you are easily frustrated. That said, having thrown it across the room in frustration, I always picked it up again after a week or two. It isn't dull.