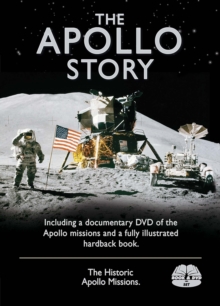 The Apollo Story
Mixed media product
Description
When Neil Armstrong and Buzz Aldrin of Apollo 11 stepped on to the surface of the Moon in July 1969, it marked the pinnacle of eight years of manned spaceflight.
Eight short years saw not only incredible technological advancement, but also the unbelievable bravery of an elite team of astronauts who rode the most powerful rockets ever devised.
The 'space race' had been in response to JFK's promise to the nation and the need to beat the Russians at all cost at a time of intense political rivalry.
But victory came at a terrible price with the disastrous Apollo 1 launch-pad fire that killed three astronauts, and who can forget the unfolding drama of the ill-fated Apollo 13 mission?
This is the story behind the greatest technological challenge of the twentieth century.
Twelve men walked on the Moon while mankind discovered a new perspective on planet Earth.
Information
Format: Mixed media product
Pages: 128 pages
Publisher: The History Press Ltd
Publication Date: 22/04/2010
Category: Popular astronomy & space
ISBN: 9780752459837