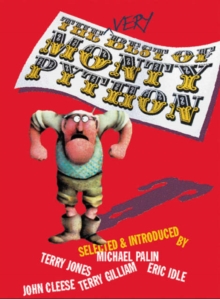 The Very Best of "Monty Python" : The Essential Gags, Sketches and Songs, Individually Selected and Introduced by the Python Team
Paperback
Description
In October 1969, the BBC broadcast the first programme in a new series entitled 'Monty Python's Flying Circus', written and conceived by Graham Chapman, John Cleese, Terry Gilliam, Eric Idle, Terry Jones and Michael Palin.
Over the years the six of them followed this with another forty-four extremely silly programmes, a German TV special, five full-length feature films, seven books, nine long-playing records and live stage shows that toured the UK, Canada and America.
In 'The Very Best of Monty Python', each of the surviving Pythons makes a personal choice of their favourite bits from the vast Python oeuvre.
These include: Why accountancy is not boring, Spamalot, The Piranha Brothers, The Lumberjack Song, The Larch, Every Sperm is Sacred, The Ministry of Silly Walks, Always look on the Bright Side of Life, Nudge Nudge, Wink Wink, Rat Recipes, Albatross, Constitutional Peasants, Spam, Monsieur Creosote, The Meaning of Life, I'm so worried, Stan's right to have babies, Careers advice for Mr Anchovy, The Truth about Protestants, The News for Parrots, What have the Romans ever done for us?!,The Undertaker Sketch, Find the Fish, How to Talk to the Queen and many other classics of silliness.
Information
Format: Paperback
Pages: 320 pages, colour illustrations
Publisher: Methuen Publishing Ltd
Publication Date: 01/01/2001
Category: Television
ISBN: 9780413776150
Free Home Delivery
on all orders
Pick up orders
from local bookshops
Reviews
Showing 1 - 1 of 1 reviews.
Review by pozo
16/06/2015
I was hoping to buy a book with sketches etc. In stead this contains only a few partial sketches (some with the punchline cut off...), some biographical info on the actors and a lot of what seem to be 'remixed' materials - such as an infographic on what a 'twit' is, which I'm sure did not exist before this book was made. All 'new' content is of equally low quality.Two stars. One and a half for the small pieces of original material in there, and another half one for the biography's (which I didn't care for much as I just wanted the comedy, but it wasn't bad either).If you want Monty Python, buy something like the "Just the words"/"All the Words" books, and ignore this one.