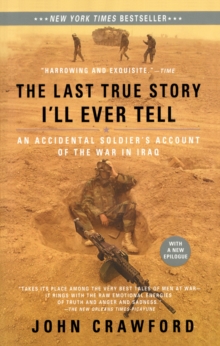 The Last True Story I'll Ever Tell : An Accidental Soldier's Account of the War in Iraq
Paperback
Information
Format: Paperback
Pages: 240 pages
Publisher: Penguin Putnam Inc
Publication Date: 06/02/2006
ISBN: 9781594482014
Free Home Delivery
on all orders
Pick up orders
from local bookshops
Reviews
Showing 1 - 5 of 5 reviews.
Review by ngennaro
16/06/2015
More a collection of short stories of the author's time in Iraq than a comprehensives account. The recollections ring true and sad. You can flip though this book easily as the writing is casual and light. The book left me for wanting more, kinda like eating cotton candy.
Review by whitewavedarling
16/06/2015
This memoir flies by like fiction, and if you're interested in hearing more about Iraq or the stories coming out of the war, this is an easy flowing read that's well worth the time. Additionally, the writing is superb and the commentary apolitical in nearly every respect--simply, they seem just meant to be stories, however true and however thought-provoking.
Review by bookmoocher
16/06/2015
This firsthand account of the Iraq War could have been good but ultimately fails to live up to its potential, laregely due to Crawford's flat and sophomoric prose.
Review by emed0s
16/06/2015
This military memoir offers no embellishments whoever reads it it's up to take a deep look into a deployment of someone who doesn't want to be deployed to begin with. Someone whose unit was to expend one of the longest, if not the longest, deployments to Iraq. Someone who had a first hand view of the deteriorating situation, that's by patrolling Baghdad from day one and into the madness that it was to become as well as the madness that it was to set in the soldiers minds, drug use included ... a madness that followed some of them home.Interesting and crude or is it crude and interesting?
Review by sgtbigg
16/06/2015
Crawford was a member of the Florida National Guard and in The Last True Story I'll Ever Tell he documents his time in Iraq. The thing that most stood out to me was how much this book sounded like the Vietnam memoirs I read years ago. If you changed Iraq to Vietnam, desert to jungle, and valium to marijuana, this would almost pass as a book about Vietnam. If I was a better writer I would probably write something about how this shows some grand meaning about the face of war, but I'm not, so I won't. Crawford tells a different story then any other I've read about Iraq; however this might be because of how little I've ventured into this area.