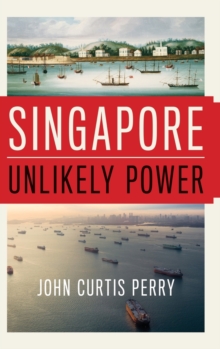 Singapore : Unlikely Power
Hardback
Description
When Lee Kuan Yew died recently, the world media turned its attention to the nation he led for decades: Singapore.
Lee Kuan Yew's revolutionary transformation of Singapore from a poor and corrupt colonial backwater into an economic powerhouse renowned for its wealth, order, and rectitude is one of the great-and most surprising-stories of modern era.
In Singapore: Unlikely Power, John Perry provides an evenhanded and authoritative history of the island nation that ranges from its Malay origins to the present day.
Blessed with a natural deepwater port that is shielded by mountain ranges from oceanic storms and which sits along one of the most strategic straits in the world, Singapore has served as a major shipping entrepot throughout modern history.
The first great naval power to exploit the island's strategic location was China,and during the fourteenth and fifteenth centuries thousands of Chinese emigrated to Singapore.
The most famous colonizer, though, was Britain, which ruled Singapore until the 1960s except for when the Japanese occupied it during World War Two.
From the early nineteenth century onward, Singapore was a vital nodein the global economy, which relied on oceanic shipping and the protection of the British Navy. Perry covers all of this before turning to the era of independence, which began in the 1960s. Plagued with the usual assortment of ills that former colonies in the tropics suffered from-corruption, inequality, lack of an educated population-Singapore improbably vaulted from essentially third-world status into a first world dynamo over the course of three decades.
In the process, longtime leaderLee Kuan Yew did many things that other post-colonial leaders shunned.
He embraced the colonial past, established close ties with its World War Two tormentor (Japan), and adopted a resolutely pragmatist approach to economic development rather than following any one fashionable ideological program. Today, it is one of the wealthiest and best educated countries in the world, and it is a model regime for states looking to develop rapidly but which are relatively unconcerned with freedom or democracy (although Singapore itself is a democracy).
In sum, this is an accessible, comprehensive, and indeed colorful overview of a city-state that has perfected one of the most influential political-economic models in the world.
Information
Format: Hardback
Pages: 360 pages
Publisher: Oxford University Press Inc
Publication Date: 06/02/2017
Category: Development studies
ISBN: 9780190469504
Other Formats
PDF from £13.00
EPUB from £13.00
Free Home Delivery
on all orders
Pick up orders
from local bookshops