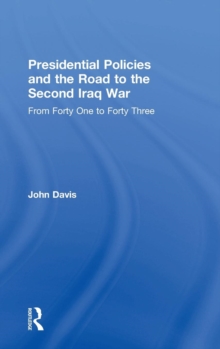 Presidential Policies and the Road to the Second Iraq War : From Forty One to Forty Three
Hardback
Description
By virtually any means of measurement, postwar Iraq has become a more bloodied and embattled settlement than ever envisaged.
But were the seeds of these problems sown long before military force had been committed? This lucid and detailed examination of US foreign policy evaluates the continuity and divergence in the strategies of the Bush, Clinton and Bush Jr administrations and their efforts to respond to the Iraqi threat, and how those strategies have bequeathed a legacy of problems to those trying to rebuild a postwar Iraq.
Offering the most comprehensive analysis of the dynamics that paved the way for renewed conflict in Iraq, the book provides a descriptive account of attempts to confront a host of political pressures, from the need for international cooperation in postwar Iraq, to dealing with the influx of foreign fighters and their quest to force American withdrawal. This essential volume provides analysts, observers and policy makers with guidelines and prescriptions about the future of postwar Iraq and detailed analysis of lessons learned both during and after the military and reconstruction phases.