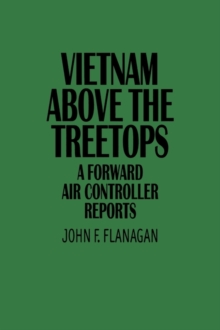 Vietnam Above the Treetops : A Forward Air Controller Reports
Paperback / softback
Description
It is 1966, the war is escalating, and a young Air Force Academy graduate's assignment is to patrol unfriendly territory with six-man hunter-killer teams.
As a Forward Air Controller, flying single engine spotter planes, Flanagan is the link between fighter-bomber pilots and ground forces.
This autobiographical account recreates the period when Flanagan, assigned to Project Delta, was plunged into major operations in key combat areas.
Spectacular airstrikes, team rescues, lost men, thwarted attempts to save comrades--all are recounted here with raw honesty.
A factual combat history from one man's perspective, this is also a thoughtful look at the warrior values of bravery, honesty, and integrity.
Flanagan examines the influences that help build these values--educational institutions, the military training system (including the service academies), and religion--and reflects on the high cost of abandoning them. In Vietnam Above the Treetops, Flanagan traces his life from adolescence through the training period, combat missions of all kinds, and re-entry into the everyday world.
His war tales take us to key regions: from the Demilitarized Zone, south through the Central highlands, and into War Zone C near Cambodia.
Flanagan tells the absolute truth of his experience in Vietnam-- call signs, bomb loads, and target coordinates are all historically accurate.
He offers observations on the Vietnamese and Korean forces he worked with, comparing Eastern and Western cultures, and he vents his frustrations with the U.S. command structure. Determined to reconstruct the past, Flanagan re-read old letters from Vietnam, examined maps, deciphered pocket diaries, interviewed former comrades, and let his own long-buried memories surface.
Flanagan did not find this book easy to write, but he wanted to pay tribute to his fellow warriors, especially those still missing in action; he wanted to exorcise his war nightmares and further understand his experience.
Even more important, he needed to communicate the values he and his comrades lived by, in distant jungles where they faced some of the toughest circumstances known to human beings.
Information
Format: Paperback / softback
Pages: 336 pages
Publisher: ABC-CLIO
Publication Date: 10/02/1992
Category: Asian history
ISBN: 9780313360633
Free Home Delivery
on all orders
Pick up orders
from local bookshops