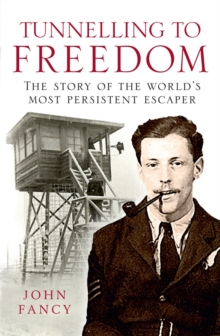 Tunnelling to Freedom : The Story of the World's Most Persistent Escaper
Paperback
Description
John Fancy, who died in September 2008, aged 95, was the most prolific escaper of the Second World War.
Nicknamed 'the Mole' he dug eight tunnels at the various camps in which he was held, in East Prussia, Poland and Germany.
Some were 40 feet below the surface and only 2 feet square.
He escaped three times, only to be recaptured. His escape activities landed him in solitary confinement for a total of 34 weeks - one eighth of his time in detention.
Whilst imprisoned at Stalag Luft III in Poland, in 1942, he helped to plot the breakout of 76 men that later became known as the Great Escape, and the inspiration for the Hollywood film.
After the war John Fancy wrote a book about his adventures.
Tunnelling to Freedom: The Story of the World's Most Persistent Escaper, was published in 1957, by Panther Books, and became an instant bestseller.
Aurum Press have acquired the rights to publish this classic work in a new edition, which will reveal John Fancy's amazing exploits to a new generation of readers.
His gripping and dryly humorous account reveals the fascinating details of life in the prison camps and the determination, heroism and madness of the escapers. We also see the incredible ingenuity and patience which John brought to bear on his escape attempts, often digging his tunnels with no more than a 10-inch butter knife.
In addition to his tunnelling he also recounts his attempts to abscond from outside working parties, cutting through the camp's perimeter wire and jumping from moving trains.
With a new Introduction that sets John's activities in a historical context, and Illustrations including photos of John and his fellow prisones in the camps, plus his original plans of tunnels and artefacts including his German butter knife, this is essential reading for the WW2 historian and anyone who enjoys a good adventure story.
Information
Format: Paperback
Pages: 288 pages
Publisher: Aurum Press
Publication Date: 25/03/2010
Category: Memoirs
ISBN: 9781845135140
Free Home Delivery
on all orders
Pick up orders
from local bookshops