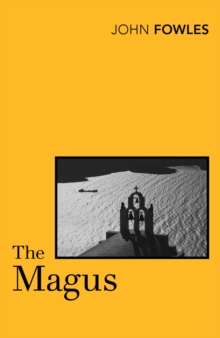 Description
On a remote Greek Island, Nicholas Urfe finds himself embroiled in the deceptions of a master trickster.
As reality and illusion intertwine, Urfe is caught up in the darkest of psychological games.
John Fowles expertly unfolds a tale that is lush with over-powering imagery in a spellbinding exploration of human complexities.
By turns disturbing, thrilling and seductive, The Magus is a feast for the mind and the senses.
Information
Format: Paperback
Pages: 672 pages
Publisher: Vintage Publishing
Publication Date: 04/11/2004
Category: Classic fiction (pre c 1945)
ISBN: 9780099478355
Free Home Delivery
on all orders
Pick up orders
from local bookshops
Reviews
Showing 1 - 3 of 3 reviews.
Review by tronella
16/06/2015
I finished reading The Magus yesterday. It was... interesting. I can see both why my mum liked it, and why my dad hated it, weirdly. I liked it most of the way through... parts of it reminded me of Lost and of other things I can't quite place, and it was quite fun, trying to work out what was real and what wasn't, got you to feel some of what Nicholas must have been feeling. But I wasn't really keen on the ending. I'd have stopped it about 20 or so chapters earlier, before all the stuff with the trial and so on... less annoying, less ridiculous, but still the same ambiguity. Well, never mind. I've read worse things.
Review by tungsten_peerts
16/06/2015
It has been several years since I read it, but all I can recall is that I disliked it intensely. I'm not sure why I finished it ...
Review by SamuelW
16/06/2015
I am a woefully impatient reader. I have zero tolerance for wasted words, literary flab, narrative bush beating. I like short books and have been known to dislike long ones. My trite complaint of every other classic I read – <i>Dracula, Frankenstein, Jane Eyre, The Turn of the Screw, Lolita, To Kill a Mockingbird</i> – is that they could have, and should have, been shorter. But somehow I fell in love with John Fowles' The Magus, which stretches to some seven hundred pages and took me twenty three hours of solid reading time (according to the Kobo app on my iPad.)It helps that the writing is not at all flabby. Fowles skims the surface of life for the ripest details and uses them to evoke feelings, settings, people. Our narrator, Nicholas, contributes much of the charm; he's a bit egotistical and curt, but you can't help but smile as he dispatches minor characters with damning little epithets – 'spectacles, rather fat, too much lipstick'. He is the listless, angst-ridden teenager who somehow manages never to whine at you or waste your time. When he takes up a teaching post in the Greek Islands, and meets a remarkable old man who invites him to spend each weekend at his house, Nicholas functions as a stand-in for the reader, becoming hypnotised by the mysteries of Conchis' invented realm and constantly hungering for more.Fowles' world is immersive, alluring; brilliantly real and brilliantly unreal. What makes <i>The Magus</i> so enjoyable is the pleasure of being under the spell of a writer who knows what he is doing, and is content to do it without pomp, pretentiousness, or even obvious purpose. Like Nicholas, the reader is blindfolded and led through a labyrinth. Fowles throws in twist after twist; as soon as the reader begins to feel comfortable with the new status quo, the bottom falls out of the story yet again. I have never read a novel that ties itself up in so many knots, and I loved every minute of it.For those who are not as well read as Fowles, it can be difficult to keep one's feet in a sea of allusions to classic plays, novels, myths and works of art. But the relentless references draw our attention to the nature of the story world that Fowles is weaving for us. We can almost feel him mocking Conchis, who denounces fiction as useless, asking 'Why should I struggle through hundreds of pages of fabrication to reach half a dozen very little truths?' Far from being a meaningless fabrication, <i>The Magus</i> is a novel that self-consciously examines the incredible powers of fiction.So I would highly recommend <i>The Magus</i>: the longest book I have ever read, and the first long book I have ever loved (excluding the later <i>Harry Potter</i> books, which don't count.)