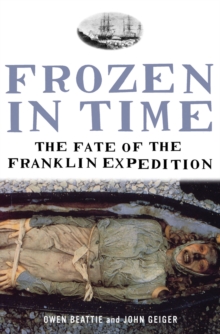 Frozen in Time : The Fate of the Franklin Expedition
Paperback
Description
The Franklin expedition was not alone in suffering early and unexplained deaths.
Indeed, both Back (1837) and Ross (1849) suffered early onset of unaccountable "debility" aboard ship and Ross suffered greater fatalities during his single winter in the Arctic than did Franklin during his first.
Both expeditions were forced to retreat because of the rapacious illness that stalked their ships.
Frozen in Time makes the case that this illness (starting with the Back expedition) was due to the crews' overwhelming reliance on a new technology, namely tinned foods.
This not only exposed the seamen to lead, an insidious poison - as has been demonstrated in Franklin's case by Dr. Beattie's research - but it also left them vulnerable to scurvy, the ancient scourge of seafarers which had been thought to have been largely cured in the early years of the nineteenth century.
Fully revised, Frozen in Time will update the research outlined in the original edition, and will introduce independent confirmation of Dr. Beattie's lead hypothesis, along with corroboration of his discovery of physical evidence for both scurvy and cannibalism. In addition, the book includes a new introduction written by Margaret Atwood, who has long been fascinated by the role of the Franklin Expedition in Canada's literary conscience, and has made a pilgrimage to the site of the Franklin Expedition graves on Beechey Island.
Information
Format: Paperback
Pages: 288 pages, Illustrations, maps, ports.
Publisher: Bloomsbury Publishing PLC
Publication Date: 01/11/2004
Category: General & world history
ISBN: 9780747577270
Free Home Delivery
on all orders
Pick up orders
from local bookshops
Reviews
Showing 1 - 4 of 4 reviews.
Review by J.v.d.A.
16/06/2015
Great story of modern investigation coupled with fascinating history; completely absorbing read.
Review by Clueless
16/06/2015
Beattie returns to the scene of the 'crime' where the Erebus and Terror left some debris. Meticulously and reverently he exhumes three graves and removes samples to be tested later. With much hardship and dignity the corpses are replaced and the permafrost reclaims their charges. Forensic anthropology has never been so gripping.
Review by nanalb
16/06/2015
I bought this book at the National Maritime Museum outside of Greewich on a recent visit there, and I had high expectations both because of Margaret Atwood's introduction but also because I'm interested in polar exploration generally and the Franklin expedition in particular.Too much focus and detail about opening the graves and what was found there, for my taste.
Review by gypsysmom
16/06/2015
Over the years I've read a number of accounts about the ill-fated Franklin Expedition of 1845 and 1846. Some concentrate on the expedition itself, some on one or more of the subsequent searches for Franklin, some even on Franklin's wife, Lady Jane. This is the first I have read that details a modern search, based on scientific evidence, for the cause of the failure. As a scientist I personally found this book fascinating.I especially loved the role that serendipity played in the outcome because that so often is how scientific advances are made. In this case, Owen Beattie (who is a forensic anthropologist) expected to find evidence that would confirm that the crew suffered from scurvy. The skeletal remains that his team found in their first Arctic trip were sent for atomic absorption analysis as a matter of thoroughness, not because anything in particular was being looked for. When the results of the analysis showed the bones from the Franklin crew member had extremely high levels of lead the investigation took a new turn.I thought the explanation of the scientific testing was very well done, something that any intelligent lay person could understand. It's not every scientist that can write in a way that is intelligible to someone outside of the field. I presume John Geiger may have had something to do with that but I suspect that Dr. Beattie is the rare scientist who can capture an audience regardless of who composes it.Great read.
Also by John Geiger