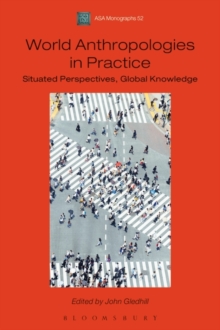 World Anthropologies in Practice : Situated Perspectives, Global Knowledge
Paperback / softback
Description
In a post-colonial world, the contributions of anthropologists living outside North America and Western Europe can no longer be treated as marginal.
World Anthropologies in Practice demonstrates how global dialogues enable us to draw on local knowledge as well as differences of perspective to help overcome anthropology's eternal struggle against ethnocentrism and to strengthen the subject's relevance to the contemporary world.Based on contributions to the ASA-sponsored IUAES World Anthropology Congress in Manchester, UK, this truly global book brings together a wide range of international scholars who might otherwise not talk to each other.
Featuring articles from leading figures in the field such as Yolanda Moses, Winnie Lem, Carmen Rial, Miriam Grossi, and Cristina Amescua, the volume covers topics as diverse as the mobility of Brazilian football players, toilets in South Africa, trade unions in Nepal and South Africa, peace-building in southern Thailand, museological approaches in China, the Great East Japan earthquake and tsunami, immigration and race in the United States, and many more.
Edited by John Gledhill, the text offers a much-needed insight into the way in which anthropology is developing worldwide and makes a tremendous contribution to the discussion of 'world anthropologies'.
An important, timely work for students and researchers.
Information
Format: Paperback / softback
Pages: 264 pages
Publisher: Taylor & Francis Ltd
Publication Date: 04/05/2017
Category: Research methods: general
ISBN: 9781474252614
Also in the ASA Monographs series | View all