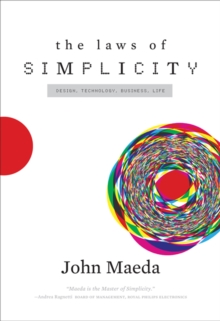 The Laws of Simplicity
Hardback
Description
Ten laws of simplicity for business, technology, and design that teach us how to need less but get more.Finally, we are learning that simplicity equals sanity.
We're rebelling against technology that's too complicated, DVD players with too many menus, and software accompanied by 75-megabyte "read me" manuals.
The iPod's clean gadgetry has made simplicity hip. But sometimes we find ourselves caught up in the simplicity paradox: we want something that's simple and easy to use, but also does all the complex things we might ever want it to do.
In The Laws of Simplicity, John Maeda offers ten laws for balancing simplicity and complexity in business, technology, and design -- guidelines for needing less and actually getting more.Maeda -- a professor in MIT's Media Lab and a world-renowned graphic designer -- explores the question of how we can redefine the notion of "improved" so that it doesn't always mean something more, something added on.Maeda's first law of simplicity is "Reduce." It's not necessarily beneficial to add technology features just because we can. And the features that we do have must be organized (Law 2) in a sensible hierarchy so users aren't distracted by features and functions they don't need.
But simplicity is not less just for the sake of less.
Skip ahead to Law 9: "Failure: Accept the fact that some things can never be made simple." Maeda's concise guide to simplicity in the digital age shows us how this idea can be a cornerstone of organizations and their products -- how it can drive both business and technology.
We can learn to simplify without sacrificing comfort and meaning, and we can achieve the balance described in Law 10.
This law, which Maeda calls "The One," tells us: "Simplicity is about subtracting the obvious, and adding the meaningful."
Free Home Delivery
on all orders
Pick up orders
from local bookshops
Reviews
Showing 1 - 5 of 8 reviews.
Previous | Next
Review by gdhaire
16/06/2015
In "The Laws of Simplicity" graphic designer, artist, computer scientist and professor at MIT, John Maeda, offers a cursory examination of simplicity in our technologically choked world. I say cursory because at 100 pages the book doesn't have much room for a "complex" examination of simplicity. I suppose John did this intentionally. Nevertheless, what I expected from the book and what I got were two different things.I expected him to discuss his ten laws in ways that pertain to real life. Maybe he did this to some degree, but more often than not, when I finished a chapter, I was left wondering why he didn't finish the book, wondering why each chapter felt like an introduction to a chapter and not a fully realized chapter itself.The ten laws are Reduce, Organize, Time, Learn, Differences, Context, Emotion, Trust, Failure and The One, which says we are to take away the obvious and add the meaningful. The ten laws are applicable to life. I only wished Maeda would have more closely followed law number ten.
Review by jensgram
16/06/2015
Not quite what I hoped for. A bit informal and casual styled.
Review by superpatron
16/06/2015
Good discussion, but the laws themselves are not pithy enough to be memorable.
Review by chellerystick
16/06/2015
I definitely enjoyed this little book and recommend it. It is more of a short meditation on simplicity in technology and life than any kind of manual, but it is a good, rich little essay on this topic.Some of the highlights of this book include: * Removing and hiding features are counterbalanced by the need to make their quality tangible (including aerodynamic or streamlined design), in an act of emotional design. * Melting elements into a blur can make them appear more simple in the gestalt, although there is a price to this in the learning curve. * Put yourself in the shoes of the beginner to teach and learn the basics, repeating yourself. * "Metaphors are only deeply engaging if they surprise along some unexpected, positive dimension." * "Simplicity and complexity need each other": "find the right balance where you can become 'comfortably lost.'" * "The taste of this meal is affected by the [pure white] room we sit in." * And trust resides in how much you need to know about a system and how much the system knows about you. The acronyms and so forth that show up through the book are fairly hokey, but he admits this as an unresolved flaw and reminds us of several important points in about 115 pages, culminating in the idea of "subtracting the obvious and adding the meaningful." He also has a companion website at lawsofsimplicity.com where he occasionally posts other books, links, etc. As always, I would've liked sources for some of his anecdotes--this would be a form of his "openness simplifies complexity"--and since this is something I do not see on the website, I'm going to have to spend some time if I want to track any of them down.Overall, this is a rich dessert. Highly recommended.
Review by Murdocke23
16/06/2015
A small book with big ideas on keeping things simple. Author is well-accomplished, and writing seems to flaunt it sometimes or is occasionally banal (perhaps due to book's start as a blog). But ideas are good (just not profound).. So a good book, but just not really impressed, maybe because I've read other books that share similar ideas at greater depth.