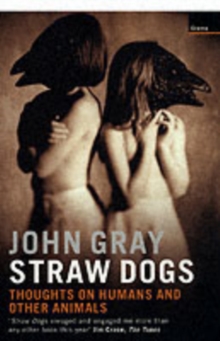 Straw Dogs : Thoughts on Humans and Other Animals
Paperback
Description
A radical work of philosophy, which sets out to challenge our most cherished assumptions about what it means to be human.
From Plato to Christianity, from the Enlightenment to Nietzsche and Marx, the Western tradition has been based on arrogant and erroneous beliefs about human beings and their place in the world.
Philosophies such as liberalism and Marxism think of humankind as a species whose destiny is to transcend natural limits and conquer the Earth.
Even in the present day, despite Darwin's discoveries, nearly all schools of thought take as their starting point the belief that humans are radically different from other animals.
John Gray argues that this humanist belief in human difference is an illusion and explores how the world and human life look once humanism has been finally abandoned.
Information
Format: Paperback
Pages: 256 pages
Publisher: Granta Books
Publication Date: 01/09/2003
Category: History of Western philosophy
ISBN: 9781862075962
Free Home Delivery
on all orders
Pick up orders
from local bookshops
Reviews
Showing 1 - 5 of 7 reviews.
Previous | Next
Review by heathweaver
16/06/2015
This book feels very much like a journal of the author's thoughts. There are some very radical and tremendous ideas in the book.It has been highly rated by many major book review sources, but it is similar to the high ratings of 'arty' movies. I think it is an interesting read, but very likely won't really change your life.
Review by Ravenari
16/06/2015
'In this book I have tried to present a view of things in which humans are not central.' John Gray's interesting, sometimes controversial, and often challenging philosophical tome is a must-read.
Review by raggedprince
16/06/2015
Bravo! Wanna know what it's all about mate? - read this. You may not agree with all of it - the challenge is to defend your arguments, and your beliefs as they come tumbling down one by one. A short book to start off thought, debate and reading: the bibliography was very useful.
Review by Widsith
16/06/2015
This smallish book is one of the most depressing and pessimistic 200 pages I have read in a long time. John Gray, a very well respected political thinker, has been getting darker and darker in his vision of the world and <em>Straw Dogs</em> finally brings him round to bleak nihilism. The book has many virtues. It is written in an admirably simple and clear way, with thoughts broken down and laid out in Pascalian <em>pensées</em>, some of them only a sentence or two long. The content is never less than thought-provoking. In six broad chapters, he outlines his theory that humans are mere animals, that faith in science is no more rational than faith in religion, free will is a myth, progress an illusion, and morality "a sickness peculiar to humans". His vision of the future is one of wars which are "certain to be hugely destructive" and in which humans will probably die by the billion, ultimately to be replaced by machines. Not only is this inevitable, it is not even particularly undesirable: humans are "not obviously worth preserving". It takes a kind of herioc cynicism to be quite so relentlessly negative, and that alone tells you that Gray must be overlooking quite a lot. But at any rate the book, though rather fascinating, is a mass of inconsistencies. On the one hand he spends a lot of time trying to demonstrate that humans should become less obssessed with action and more content with simply being. But on the other hand he insists that humans cannot change and any attempt to alter human nature is doomed to failure. Similarly, he bangs on about how pointless the concept of truth is – "the worship of truth is a Christian cult" – yet what is this book if not an attempt to put forward his own view of truth and overturn the "untruths" of others? If this book does not offer a kind of truth, it offers nothing. His criticism of science is too extreme to be valuable. Gray views it as a kind of modern mystical religion, an object of faith every bit as irrational as its religious ancestors. This allows him to make some pretty silly statements: "<i>Yet after all the work of Plato and Spinoza, Descartes and Bertrand Russell we have no more reason than other animals do for believing that the sun will rise tomorrow.</i>"Call me a bluff old traditionalist, but I feel that Copernicus, Galileo, Newton and so on have given me a much firmer basis for that belief than simply past evidence. Gray's failure to recognise progress is perverse. Of course, people will always feel unhappy and will always suffer, but there can be no denying that modern civilisations have raised the general standard of living, demonised inequality, established systems of justice and law enforcement, produced great works of art, and so on and so forth. Gray, when he acknowledges such things at all, merely suggests that this is a blip which will soon be followed by more misery and extinction. Yes, there is a danger in blind faith in progress or undue veneration of science. But all Gray has to offer as an alternative seems to be an even more unreliable amalgam of Eastern philosophy and Gaia theory. It's not enough. The apocalyptic romance of his vision is itself more akin to mysticism than rationality. And so the leaps in logic pile up. It is worth stressing (though hardly a new idea) that we are animals like any other species. But it takes some effort to go on to say that we are therefore in no way unusual in our accomplishments both good and bad. Similarly, Gray is right to show that morality breaks down in extreme circumstances. But he is wrong to conclude from this that it has no value. Liberal humanism has had so many demontrable benefits that any attack on it has to offer some comparable alternative. <em>Straw Dogs</em> sidesteps this competition by arguing that belief in progress or development is silly, and we should rather simply accept that we are ultimately heading for annihilation both personally and as a species. That may be so, but this book fails to prove that bleak resignation is the most appropriate response, either for personal happiness or for social stability.
Review by pessoanongrata
16/06/2015
read it again for the first time, and likely i will read this yet again and still find new points and observations that seem to spring anew from his unsentimental reasoning; always, this book will never fail to shake me out of complacent thinking. if anything this book does well, it makes one think less ideologically, less hopefully (hope is the drug of secularism, atheism, humanists; no different than religion, so disputes Gray). ever the cynic about human progress, he throws acid on held beliefs and one comes away from Straw Dogs wanting to think more like a cynic (root of "cynic": "kynikos" from the Greek, meaning: like a dog)...