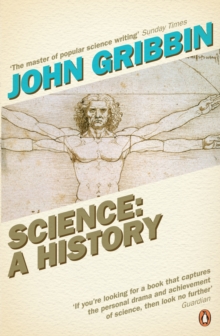 Science: A History
Paperback
Description
From award-winning science writer John Gribbin, Science: A History is the enthralling story of the men and women who changed the way we see the world, and the turbulent times they lived in. From Galileo, tried by the Inquisition for his ideas, to Newton, who wrote his rivals out of the history books; from Marie Curie, forced to work apart from male students for fear she might excite them, to Louis Agassiz, who marched his colleagues up a mountain to prove that the ice ages had occurred. Filled with pioneers, visionaries, eccentrics and madmen, this is the history of science as it has never been told before. 'Gripping and entertaining ... Wonderfully and pleasurably accessible' Independent on Sunday 'Tremendous ... moves me to bestow a reviewer's cliche I long ago vowed never to use: a tour de force' Spectator 'A magnificent history ... enormously entertaining' Daily Telegraph 'A splendid book ... demolishes innumerable myths and exposes the factual roots of some of science's well known tales (for example, Galileo never dropped weights of different sizes from Pisa's leaning tower)' Economist 'We experience his subjects' triumphs and failures as if we knew them personally ...
I found myself whizzing through the pages' Sunday Telegraph John Gribbin is one of today's greatest writers of popular science and the author of bestselling books, including In Search of Schrodinger's Cat, Stardust, Science: A History and In Search of the Multiverse.
Gribbin trained as an astrophysicist at Cambridge University and is currently Visiting Fellow in Astronomy at the University of Sussex.
Information
Format: Paperback
Pages: 672 pages
Publisher: Penguin Books Ltd
Publication Date: 07/08/2003
Category: History of science
ISBN: 9780140297416
Other Formats
Hardback from £18.65
Paperback from £8.65
EPUB from £9.99
Free Home Delivery
on all orders
Pick up orders
from local bookshops
Reviews
Showing 1 - 4 of 4 reviews.
Review by ablueidol
16/06/2015
Helps to make clear that the poet and scientist often drink from the same glass! Also forget the myth of the objective, white coated scientist. Social orgins of knowledge always more revealing- check out the discovery and publication of DNA
Review by woodpigeon01
16/06/2015
This is a very comprehensive text that brings to life some of the names behind the laws, theories and experiments from the high school science curriculum. Many of the stories are fascinating - we get a brief insight into some of the personal and political issues that these people had to cope with.A particular strength of the book is the strong focus on pre-20th century scientific advancement. Many histories tend to over-emphasise recent events to the detriment of older stories.My only reservation about the book was the uneveness of the biographies in the books. Some of the bios are fascinating, others appear irrelevant and rather pedestrian. I have a feeling that some more editing in this direction would have helped the readibility of the book greatly.Nevertheless, a fascinating book for anyone who wants to understand something about where how these great ideas came about.
Review by antisyzygy
16/06/2015
An easily-read and entertaining overview of the main players and events in the history of Western science. the author clearly sets out his stall from the beginning in the the limits of what he covers and how he chooses to approach the subject. This is very much focussed on the the individual and the personality with an emphasis on the biographical detail rather than the scientific detail. In general this works well, there are a couple of occasions where the informal approach does jar slightly (in describing one scientist as 'going ballistic' at his rival), but mostly it works to flesh out personalities (particularly pre 20th century).However, given the scope of this book, it takes some skill to cover so much and put in a proper context, and by and large Gribbin manages this. It would make a good introduction to the general reader.
Review by psiloiordinary
16/06/2015
A great introduction to the topic which concentrates on the people and their lives and only gives a brief insight into the science itself.Very easy to read and with many entertaining anecdotes and tales.Gribbin is one of the easiest to read popular science writers, now he shows his hand as a great history writer as well.I can see that I will be dipping in and out of this book for reference for many years to come.A good read.Four out of five stars.