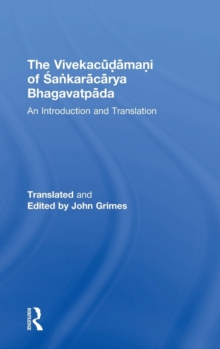 The Vivekacudamani of Sankaracarya Bhagavatpada : An Introduction and Translation
Hardback
Description
Advaita Vedanta is one of the most important and widely studied schools of thought in Hindu religion and the Vivekacudamani is one of the most important texts in the Advaita tradition and the most popular philosophical work ascribed to the great Indian philosopher, Sankara.
Sankara (c.650-700) is considered to be a giant among giants and probably the most venerated philosopher in India's long history. The Vivekacudamani is in the form of a dialogue between a preceptor (guru) and a pupil (sisya) expounding the quintessence of Advaita in which the pupil humbly approaches the preceptor and, having served the teacher selflessly, implores to be rescued from worldly existence (samsara).
The guru promises to teach the way to liberation (moksa) which culminates in the ecstatic experience of one's own Self. This book presents an accessible translation of the entire text and also includes Upanisadic cross-referencing to most of its 580 verses, extensive notes, a lengthy Introduction, list of variant readings, an extensive bibliography, and an index to the verses.
All those interested in Indian religion and philosophy, Hindu studies, or Sanskrit, will find this readable English translation of an Indian philosophical classic invaluable.
Information
Format: Hardback
Pages: 304 pages
Publisher: Taylor & Francis Ltd
Publication Date: 14/01/2004
Category: Hinduism
ISBN: 9780754633952
Other Formats
Paperback / softback from £39.19
EPUB from £39.59
PDF from £39.59
Also by John Grimes