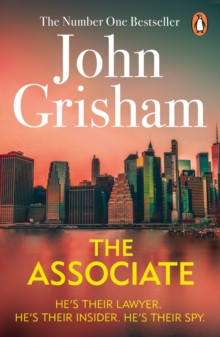 Description
It's a deadly game of blackmail. And they're making him play. Kyle McAvoy is one of the outstanding legal students of his generation: he's good looking, has a brilliant mind and a glittering future ahead of him.
But he has a secret from his past, a secret that threatens to destroy his entire life. One night that secret catches up with him in the form of a deeply compromising video of the incident that haunts him.
Kyle realises that he no longer owns his own future - that he must do as his blackmailers tell him, or the video will be made public, with all the unpleasant consequences. What price do they demand for Kyle's secret? It is for Kyle to take a job in New York as an associate at the largest law firm in the world.
Kyle won't be working for this company, but against it - passing on the secrets of it's biggest trial to date, a dispute worth billions of dollars to the victor.
Full of twists and turns and reminiscent of The Firm, The Associate is vintage John Grisham.
Information
Format: Paperback
Pages: 496 pages
Publisher: Cornerstone
Publication Date: 08/08/2009
Category: Thriller / suspense
ISBN: 9780099502234
Other Formats
CD-Audio from £13.75
EPUB from £3.99
Audio cassette from £11.59
eAudiobook MP3 from £7.20
Free Home Delivery
on all orders
Pick up orders
from local bookshops
Reviews
Showing 1 - 2 of 2 reviews.
Review by cathymoore
16/06/2015
As others have said, this as I recall, is pretty similar to The Firm, except perhaps not quite so good. Although this made for an easy enough read I often struggled to understand the main character's motivations for his actions. His reasons for stealing secrets from his employer in the first place and then his sudden decision to tell his secret to his father, when he was previously adamant he wouldn't all lack credibility. Definitely not grisham's finest piece of work, thought perfectly readable nonetheless.
Review by reading_fox
16/06/2015
Poor. It's been a long time since Grisham managed to tell a gripping story, and he hasn't succeeded this time either. There are touches of the old spark, and the setting is reminiscent of his big thrillers, but the plot is lacking in believability, the characters clunky, and it collapses into a dismally weak ending.Kyle McAvery is a typical yuppy lawyer, just out of Yale and ready to take up his big job, with his big law firm. One day he gets a bit of a shock to find some local characters have rooted about in his life, and found a video that he thought had never been made. They don't want money, they want documents, specifically from his new big law firm. There follows a large chunk of Kyle attempting to be sneaky in non-clever ways, and a few meetings with his blackmailers, and a bit about how hard corporate law is, and then it ends. I think it's supposed to be another version of hate piled on for corporate law firms, but it all comes across a bit weak. Especially the ending, which doesn't resolve any of the questions raised during the book. There is none of the courtroom fire and drama, which a 'law story' really needs. Granted this may be slightly more true to life, but it's always a notable lack when Grisham doesn't include any. This read more like a bad thriller, with inept law agents and a do-it-yourself hero. There's a brief love interest, the old kindly manager, the scary manager etc, but none of them have any personality. I never really connected to Kyle, and didn't care whether he escaped, got caught or crashed and burned.It's readable, Grisham can still write engaging sentences, but as a book it's just not worth the effort.