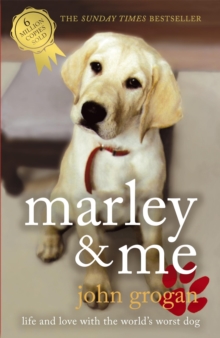 Marley and Me : Life and Love with the World's Worst Dog
Paperback
Description
**THE NO. 1 SUNDAY TIMES BESTSELLER THAT MOVED DOG LOVERS ALL OVER THE WORLD****NOW A MAJOR MOTION PICTURE, STARRING OWEN WILSON AND JENNIFER ANISTON**'A book with intense appeal . . . tenderly follows its subject from sunrise to sunset' New York Times'Not just a funny dog story . . . It's a universal story of family life and a publishing sensation' The Times'Made me laugh so much I pulled a muscle in my solar plexus' Daily Mail'A wonderful, moving book that even non-dog-lovers cannot fail to enjoy' Mail on Sunday* * * * * * The original book that moved millions of readers around the world and that inspired the major motion picture of the same name starring Owen Wilson and Jennifer Aniston.This No. 1 Sunday Times bestseller tells the heart-warming tale of how a wiggly yellow fur ball of a puppy could grow into a barrelling, ninety-seven pound stramroller of a Labrador retriever who would prove that unconditional love comes in many forms.
John and Jenny were just beginning their life together.
They were young and in love, with a perfect little house and not a care in the world.
Along comes Marley, mischievous, hyperactive and so unruly he is expelled from obedience school.
How could they possibly know that this incorrigible dog could teach them more about love for life than they could hope to teach him?Since becoming a major motion picture, starring Jennifer Aniston and Owen Wilson, this heart-warming and unforgettable story of a family and their haphazard dog has become a timeless family favourite.
Information
Format: Paperback
Pages: 368 pages, 8 pp plate section
Publisher: Hodder & Stoughton General Division
Publication Date: 26/07/2007
Category: Memoirs
ISBN: 9780340922101
Free Home Delivery
on all orders
Pick up orders
from local bookshops
Reviews
Showing 1 - 5 of 7 reviews.
Previous | Next
Review by emhromp2
16/06/2015
Just how funny can a book about a dog get? That's what I was wondering as someone lended me this book. And I loved it! It is a very warm hearted book, with a laugh and a tear.
Review by silvercowrie
16/06/2015
If you've ever lived with and loved an irrepressibly energetic and exuberant dog then there's plenty in this book that you will relate to.Marley is a boisterous labrador pup who quickly develops into a massive 97lb dog with even more enthusiasm for life. It is also the story of the author and his family life. It is well-written and part of the appeal is that it is so refreshingly open and honest in its telling.I found it heartwarming and, at times, painfully raw.
Review by elliepotten
16/06/2015
I put off reading this book for a long time, suspicious of the hype around the book and then, not long after, the movie. I needn't have worried so much. John Grogan has done for American dog lovers what Deric Longden did for British cat lovers. He has written a memoir with a deceptively simple premise - one man's story of life with 'the world's worst dog', his labrador retriever Marley. What actually leaps out of the story is a wonderful portrayal of family life with this huge personality in its midst, a heartwarming tale of one dog from bouncy puppy to geriatric old dog. There is enough humanity to keep the book grounded, enough Marley to fill the whole with boundless energy. It made me laugh out loud, it made me cry so much I had to do some serious mascara damage repair, it made me think, it made me smile... I'm definitely a cat person, but Marley's personality won me over from the word go, with his fierce loyalty and sheer enthusiasm for life.<i>"Marley taught me about living each day with unbridled exuberance and joy, about seizing the moment and following your heart. He taught me to appreciate the simple things - a walk in the woods, a fresh snowfall, a nap in a shaft of winter sunlight. And as he grew old and achy, he taught me about optimism in the face of adversity. Mostly, he taught me about friendship and selflessness and, above all else, unwavering loyalty."</i>Beautifully written, full of hilarious anecdotes, and well worth a read!
Review by AdonisGuilfoyle
16/06/2015
With the film out, I thought should probably get around to reading the book; I also thought that the book couldn't possibly be as cute as the film. I was wrong - going on what I've seen in the trailer, there is absolutely no need for dramatic licence in telling Marley's story! From the opening chapter, John Grogan had me in fits of silent hysterical laughter, describing behaviour that I recognise from my own personal experience of labradors, not to mention Marley's own incredible adventures (including jumping out of the window of a moving car, and taking a restaurant table for a walk). Of course, I knew what was coming - family and friends who have read the book warn of the sad but inevitable conclusion - but I really wasn't prepared for how close I had grown to Marley throughout 250 pages of mayhem, and had to save the last few pages until I was alone. To say I cried is an understatement. Yet it is worth braving the tears, because the real belly laughs come as John Grogan recounts some of the horror stories he received in response to his farewell column for Marley - I was still half blind, sniffing and dabbing at my eyes with tissues, but now I couldn't breathe, either!An emotional read, particularly for dog owners, but really for anybody who has an ounce of sentimentality in them. Thanks to John Grogan - and Marley - for sharing.
Review by rainpebble
16/06/2015
Hubby & I watched Marley and Me on the telly and I just had to read it right away. My granddaughter had forgotten her copy here so I read it and loved every page. I laughed, I cried..........quick read and I'm so glad that I did.This is the story of a yellow lab named Marley; supposedly the worst dog in the world. His family adores him but he has so much energy and is bursting with just the happiness of life that he simply cannot behave. A true story. A sweet story. A happy story. A sad story.We have a yellow lab too and I have a feeling that if our three year old Abby the Labby didn't have hip dysplasia, she could give Marley a run for his money. I thoroughly enjoy this little book and rated it a 4* read.