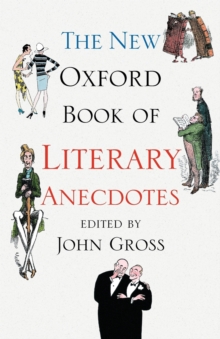 The New Oxford Book of Literary Anecdotes
Paperback
Description
An unrivalled collection of literary gossip and intimate sidelights on the lives of the authors. The dictionary defines an anecdote as 'a short account of an entertaining or interesting incident', and the anecdotes in this collection more than live up to that description.
Many of them are funny, often explosively so. Others are touching, outrageous, sinister, inspiring, or downright weird.
They show writers in the English-speaking world from Chaucer to the present acting both unpredictably, and deeply in character.
The range is wide - this is a book which finds room for Milton and Margaret Atwood, George Eliot and P.
G. Wodehouse, Chinua Achebe and Ian Fleming, Brendan Behan and Wittgenstein.
It is also a book in which you can find out which great historian's face was once mistaken for a baby's bottom, which film star left a haunting account of Virginia Woolf not long before her death, and what Agatha Christie really thought of Hercule Poirot - a book not just for lovers of literature, but for anyone with a taste for the curiosities of human nature.
Information
Format: Paperback
Pages: 400 pages
Publisher: Oxford University Press
Publication Date: 25/09/2008
Category: Anthologies (non-poetry)
ISBN: 9780199543410
Free Home Delivery
on all orders
Pick up orders
from local bookshops
Reviews
Showing 1 - 1 of 1 reviews.
Review by hardlyhardy
16/06/2015
I have been having a good time lately browsing through "The New Oxford Book of Literary Anecdotes." I usually just open the book at random and read whatever I come across.The book is simply a collections of stories — from biographies and other sources — about writers from Geoffrey Chaucer to J.K. Rowling. These are mostly, but not exclusively, British writers.Some of the tales are quite sad, such as the one about the death of Jane Austen in 1817 — her last recorded words were, "I want nothing but death" — and Mary Wollstonecraft's suicide attempt. The latter jumped from a bridge into the Thames, but because of her bulky clothing, she floated long enough to be rescued. By surviving, she was later able to give birth to Mary Shelley, who gave us Frankenstein.Other stories are lighter, more in keeping with what we usually mean when we use the word anecdote. When G.K. Chesterton got his first look at the lights of Broadway, he is said to have commented, "What a glorious garden of wonders this would be for anyone who was lucky enough to be unable to read."People who knock on the door of your home to try to convert you to their particular religious views are nothing new. When Thomas Paine had such a visitor at his door, he reportedly told her, "Pshaw! God would not send such a foolish, ugly old woman as you about with his messages. Go away — be off — and shut the door."In a secondhand bookshop, George Bernard Shaw found a book with the words "To ___ with esteem, George Bernard Shaw." He bought it and sent it again to the same person, after adding the words, "With renewed esteem, George Bernard Shaw."
Also in the Oxford Books of Prose & Verse series | View all