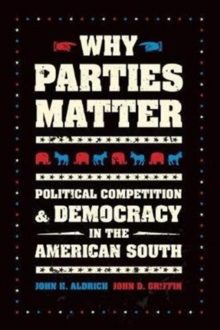 Why Parties Matter : Political Competition and Democracy in the American South
Paperback / softback
Description
Since the founding of the American Republic, the North and South have followed remarkably different paths of political development.
Among the factors that have led to their divergence throughout much of history are differences in the levels of competition among the political parties.
While the North has generally enjoyed a well-defined two-party system, the South has tended to have only weakly developed political parties and at times no system of parties to speak of.
With Why Parties Matter, John H. Aldrich and John D. Griffin make a compelling case that competition between political parties is an essential component of a democracy that is responsive to its citizens and thus able to address their concerns.
Tracing the history of the parties through four eras the Democratic-Whig party era that preceded the Civil War; the post-Reconstruction period; the Jim Crow era, when competition between the parties virtually disappeared; and the modern era Aldrich and Griffin show how and when competition emerged between the parties and the conditions under which it succeeded and failed. In the modern era, as party competition in the South has come to be widely regarded as matching that of the North, the authors conclude by exploring the question of whether the South is poised to become a one-party system once again with the Republican party now dominant.
Information
Format: Paperback / softback
Pages: 304 pages, 72 halftones, 17 line drawings, 20 tables
Publisher: The University of Chicago Press
Publication Date: 16/01/2018
Category: Political parties
ISBN: 9780226495378
Also in the Chicago Studies in American Politics series | View all