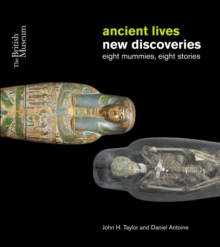 Ancient Lives: Eight Mummies, Eight Stories
Paperback
Description
In recent years, British Museum curators have collaborated with scientists and medical experts to explore non-invasive imaging techniques and other scientific approaches to further study Egyptian mummies.
Piecing together key biographical data and information, it has been possible for the first time to discover more about who these people were in ancient Egyptian society.
Mummies draws on cutting-edge research to reveal the actual experience of living and dying in the ancient Nile Valley.
Eight significant mummies are explored, each carefully selected to tell a different story, covering a period of over 4000 years.
They include a young female temple singer, an unknown man of high status, and a child from the Roman era.
Funerary objects are also highlighted for context: for example, non-invasive imaging of the contents of canopic jars; analyses of embalming substances, and identification of wood species and pigment types used in coffins. The majority of the material is drawn from the British Museums extensive Egypt and Sudan collections, but the book includes a number of mummies from other museums to physically reunite individuals originally buried together in family or communal tombs.
This allows fascinating comparisons to be made. With over 200 specially commissioned photographs, Mummies sets out to shine a new light on the past.
Information
Format: Paperback
Pages: 192 pages, 225 colour illustrations
Publisher: British Museum Press
Publication Date: 31/05/2014
Category: African history
ISBN: 9780714119120
Free Home Delivery
on all orders
Pick up orders
from local bookshops
Reviews
Showing 1 - 1 of 1 reviews.
Review by antiquary
16/06/2015
Catalog of a recent exhibition I saw at the British Museum, based on non-invasive studies of mummies using modern CT scanning techniques. The eight mummies include a very early (3500 BC) young man naturally preserved by burial in the sand before mummification became the regular practice, a male mummy from 600 BC "transposed" into the coffin of a woman (possibly when the mummy was sold to the Prince of Wales in the 1860s), the canopic jars (without mummy) of a Singer of Amun (temple priestess), a high-ranking priest's daughter (about 900 BC), a male temple doorkeeper from the 25th dynasty (about 700 BC), a seven year old girl temple singer 22nd dynasty (about 800 BC), a male mummy from the Roman buried in a coffin from 1250 BC, a young boy (about 2 years 9 months) from a family group Roman period 40 -60 AD, and a young Christian woman from the Sudan (AD 655 - 755). Besides descriptions of the mummies, the catalog includes background on mummification methods, deductions about diet and diseases, religious articles buried with mummies etc.
Also by John H. Taylor